Billy Eugene Collins
Springdale, AR, 1927 - 2019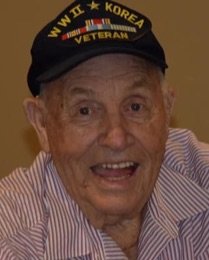 Billy Eugene Collins was born in Fayetteville Arkansas in his parents home on May 4, 1927. He passed away Monday, October 28, 2019 at Northwest Medical Center in Springdale.
Bill was the fourth child of 11 children born to Dison and Amo Griffith Collins. Bill lived and was raised on a farm until he joined the United States Navy in 1945 where he served in the South Pacific. After serving in the Navy, he served in the United States Army during the Korean War. During his time in the Army he was the recipient of three Bronze Stars.
After his tenure in the U.S. Army he came back to Springdale and married his sweetheart, Katherine Moore in November 1952. They were married for 66 years.
Bill was also known for his volunteer service in his community at "Meals on Wheels" for twenty years and at the "Nursing Rehab Center". Bill received the Govenors' Volunteer Excellence Award in May of 2007 in recognition of his outstanding volunteer services for serving the people of Arkansas.
He was preceded in death by his parents and many brothers and sisters. Bill and Katherine have one son, Tommy Eugene Collins and wife Sharon of Vinita, Oklahoma; two grandchildren, Tommy E. Collins, Jr. of Bentonville, Arkansas and Francesca Harris and husband Gabe of Gravette, Arkansas; two great-grandchildren, Caleb and Asher Harris; two brothers, Riley Collins and wife Fredina and Jim Collins and one sister, Mary Carver and husband Dale all of Springdale and many very special nieces.
Bill was a beloved husband, father, grandfather, brother, uncle and friend. His sweet spirit, bright smile and willingness to serve will be greatly missed.
Graveside services will be Friday, November 1, 2019 at 11 a.m. at Fayetteville National Cemetery with Dr. Gabe Harris officiating. No visitation is planned. Online condolences may be left at www.siscofuneral.com.
Published October 30, 2019
OBITUARY SUBMITTED BY:
Sisco Funeral Chapel
705 W. Meadow St., Springdale, AR
Phone: 479-751-4577
http://www.siscofuneral.com