Chasity "Sissy" Lasley
Greenbrier, AR, 1989 - 2019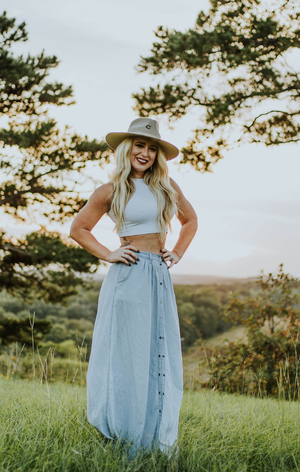 Chasity "Sissy" Lasley of Greenbrier was born on April 6, 1989 in Conway, Ark. and went to be with the Lord on August 27, 2019 after a heroic fight with cancer. She was the daughter of Jeff and Mesa Lasley.
Sissy has always had big faith. October 2018, it was realized just how strong and unwavering that her faith was. She believed from the beginning she was going to be healed but was at peace in knowing it might not be here on Earth. Sissy was known as being God loving, strong, faithful, determined, scrappy, honest, and friendly. If people were colors, Sissy would have been PINK!
Sissy had a strong bond with her family. She and her momma were best friends, and her daddy was her hero. The connection between Sissy and her brothers was unbreakable and undeniable. One of Sissy's favorite titles was being aunt to her nephews and niece. Sissy was loved by many and had a village of best friends who became family. She loved her people with a fierceness only she possessed.
She did more in her adult life than most people do in a lifetime. She took advantage of every opportunity set before her. Sissy was an "old soul" and loved all people from different walks of life. She greeted everyone with the same respect and beautiful smile. Sissy was strong-willed and hardworking, which led to her building a successful business. She made quite a name for herself in the beauty industry. When her clients walked out of her salon, they felt encouraged, beautiful, and inspired.
Although Sissy had been a believer since childhood and was raised in church, she had not been baptized. As one of her last requests, she was baptized on August 19, 2019.
Sissy is survived by her loving parents Jeff and Mesa Lasley; brother Jeffrey (Brooke) Lasley and nephews Ethan and Evan, niece Ellie; brother Jacob (Brooke) Lasley and nephew Jep; many aunts, uncles, and cousins as well as many, many cherished friends. She is preceded in death by her brother Billy Shane Lasley; grandparents Elwin and Wanda Lasley; grandparents Bill and Mary Hammett.
Services will be held at The Church Alive in Conway, Ark. Visitation will be Monday, September 2, 2019 from 6-8 p.m. Funeral services will be Tuesday, September 3, 2019 at 1 p.m. In lieu of flowers, a "Sissy Strong" account has been set up in Sissy's honor at First Service Bank in Greenbrier, Ark. The "Sissy Strong" account will be used to provide monetary aide for families/individuals who are caught in the same battle as our sweet Sissy!
Online Guestbook available at www.rollerfuneralhomes.com/conway.
Published September 1, 2019
OBITUARY SUBMITTED BY:
Roller-McNutt / Conway
8th and Vine, P.O. Box 249, Conway, AR
Phone: 501-374-2731