Elinorjane "Jane" Dowling Green
Camden, AR, 1919 - 2019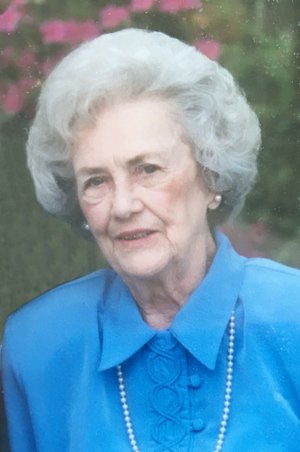 Elinorjane "Jane" Dowling Green was born April 6, 1919 in St. Louis, Missouri to Helen Held Dowling and Thomas Andrew Dowling. Jane went home to be with her Heavenly Father on September 2, 2019. She thoroughly enjoyed her 100th birthday this past April with family and friends. She was a longtime member of St. Louis Catholic Church in Camden. She was preceded in death by her husband, Charles J. Green; her sisters, Mary Victor and Helen B. Rohlman; her granddaughter, Kimberly Jane Green; daughter-in-law, Regina Green; and son-in-law, David Bryant.
Jane is survived by two sons, Bobby Green of Camden and Tommy Green and wife, Stacia, also of Camden; three daughters, Susan Bryant of Fayetteville, Mary Jane Evins and husband, Robert, of El Dorado, and Gin Foster and husband, Phil, of Camden; 15 grandchildren: Joe and Susie Bryant, Jeanne and Ken Helms, Cathey and Scotty Roberts, Charles Green, Cindy and Scott Harrington, Kris Green, Nathan Green and Luis Gonzalez, Nick and Elaine Green, Jason and Amber Evins, Jennifer and John Bishop, Jonathan Evins and fiancé, Morgan Shumate, Whitney and Taylor Moore, Cameron and Matt Machen, and Chase and Corbin Foster; and twenty great-grandchildren. Mother was lovingly called Meemaw by all of her grandchildren and great-grands. Jane also leaves behind her dear friend, Mattie Upton.
Jane married the love of her life, Charlie Green, on February 14, 1942. Charlie and Jane moved to Camden in 1946 for what Jane thought would be one year while Charlie learned the sawmill business. Although she cried everyday that year wanting to return to St. Louis, she grew to love Camden where she and Charlie raised their family. After Charlie died in 1974, Jane worked as a bookkeeper at the Camden Country Club and Freer's dress shop.
Jane loved the St. Louis Cardinals baseball team. She kept record books of every game with detailed statistics. Jane and her friend, O'Dell Bartlett, would call each other during the games and discuss the players, the outs, the pitching and the score. She was such an avid fan that you really did not want to call or visit her while the "Cards" were on TV or the radio.
Jane was an excellent bridge player and a member of several bridge clubs. She was also a lifetime member of the Junior Auxiliary. She enjoyed knitting and needlepoint and sewed many of her daughters' clothes while they were growing up. She also loved history, reading, and crossword puzzles, especially The New York Times crossword puzzle which she worked in ink!. Her vocabulary and knowledge of the stock market were second to none, and her memory was unbelievable as she would recall events of family or friends or remember names when no one else could, even up to a few months ago. Her family loved to laugh about the fact that they could not remember things or names, but if you asked Meemaw, she would surely remember! Mother's strong faith in God through the Catholic Church and love for her family was known to all who knew her.
Visitation will be Thursday, September 5, at 9:30 a.m. at St. Louis Catholic Parish Hall. Funeral Mass will follow at 11 a.m. at St. Louis Catholic Church, with burial in Memorial Park Cemetery. Pallbearers will be her eight grandsons. Father William Burmester will officiate the services. Memorials may be made to St. Louis Catholic Church, Ouachita County Hospice or the charity of your choice. To sign the online guest registry, visit www.proctorfuneralhome.com.
Published September 4, 2019
OBITUARY SUBMITTED BY:
Proctor Funeral Home
442 Jefferson Street SW, P.O. Box P, Camden, AR
Phone: 870-836-2264
http://www.proctorfuneralhome.com