Joyce Lynn Keith George
Fayetteville, AR, 1960 - 2019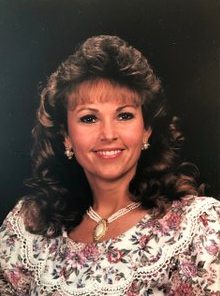 Joyce Lynn Keith George passed on into the loving arms of our Lord on August 30, 2019 in Fayetteville, Arkansas. Joyce was 59. Joyce was born January 2, 1960 in Coffeyville, Kansas to Mary Elizabeth Capps Keith and James Lloyd (Jim) Keith, Jr. Joyce grew up in a loving and fun filled home at 3303 W. 8th with her older sisters, Julie and Linda.
Joyce was in the Class of '78 at Field Kindley High School, where she was a member of Drum and Bugle Corps and the Tornado Times staff. Joyce enjoyed her many friends. Joyce's love for the Lord was nurtured at First United Methodist Church during childhood and her teenage years.
On June 4, 1978, Joyce married Tom George in the chapel of First United Methodist Church. They bought a home in the country near Dearing, Kansas, where their family grew, as they were blessed with three sons, Thomas Lloyd, Lucas Alan and Andrew James. Joyce was a natural homemaker, enjoying her garden, animals, cooking and tending a warm and loving home…and, of course, caring for her three ornery, but adorable, little boys.
In these years, Joyce's faith grew, while her family was involved a lot in Tyro Christian Church. Eventually, Joyce moved to Fayetteville, Arkansas, in the Ozark Mountains. She greatly enjoyed nature's beauty, music and made many more friends.
It was here that she found Genesis Church, which is a part of Central United Methodist Church, and she felt God's peace and love, abundantly. Joyce's pets were very special companions to her and lucky to have her special touch with animals.
Joyce is survived by her three sons, Tommy and Natalie George of North Little Rock, Arkansas, Luke and Leigh George of Oklahoma City, Oklahoma, and Andy and Jerrica George of Montgomery, Texas.Her blessings of grandchildren are five grandsons, Kaleb, Aiden, Kameron, Asher James and Finn, and her one and only granddaughter, Mary Emma. Surviving sisters are Julie Carr and husband Dennis of Houston, Texas and Linda Malloy and husband Rick of Fayetteville, Arkansas.
Joyce's Memorial Service will be celebrated at First United Methodist Church in Coffeyville, Kansas, on Saturday, Sept. 14 at 10:30 a.m. Family burial to follow at Fairview Cemetery.
In Joyce's memory, memorials can be made to Genesis Church, 205 MLK Blvd. Fayetteville, Ark. 72701, which touches the family in so many ways. Arrangements by Epting Funeral Home Fayetteville. Condolences: www.eptingfuneralhome.webs.com.
Published September 4, 2019
OBITUARY SUBMITTED BY:
Epting Funeral Home
709 N. Walton, Bentonville, AR
Find it at: corner of Walton and College
E-mail: eptingfuneralhome@inbox.com
Phone: 479-273-3443
http://www.eptingfuneralhome.webs.com/