Betty Jo Grant
Arkadelphia, AR, 1927 - 2019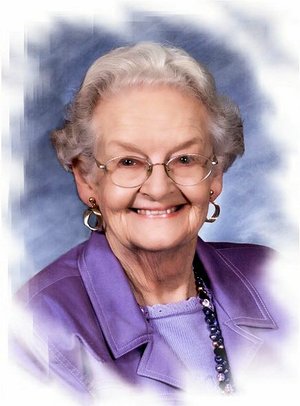 Betty Jo Grant, 92, of Arkadelphia died on September 7, 2019. Mrs. Grant is survived by her husband of 72 years, Daniel R. Grant, Sr., President Emeritus of Ouachita Baptist University.
She also is survived by two daughters, Carolyn Walton (Bill) and Shirley Hardin (Phil); and, by her son, Daniel Ross Grant Jr. (Liz). Other survivors include five grandchildren, Tad Hardin (Monica), Allison Hyll (Dan), Jon Hardin (Katie), Gary Grant (Katherine), and Gina Scheer (Zach); and 11 great-grandchildren, Zachary, Isaac, Charlie, and Leo Hardin; Keller and Kaleb Hyll; Elliott, Julianne, and Mason Grant; and, Jordan and Adam Scheer. Mrs. Grant was predeceased by her parents, her brother Victor Lord Oliver, and her sister Lenore Oliver Smith.
Betty Jo Oliver Grant was born August 2, 1927, in St. Joseph, La., the daughter of Victor LeRoy Oliver and Katsie Lord Oliver. She spent her childhood in Wilmot, Ark. attended Henderson State Teachers College, and graduated from Ouachita Baptist College in 1947 at the age of 19.
In 1948, Dr. and Mrs. Grant moved to Nashville, Tenn. where he served on the faculty of Vanderbilt University for over 21 years. The Grants were members of Nashville First Baptist Church where they were leaders in ministries for college and international students. Mrs. Grant was active for many years in missions support groups and traveled with her husband to meetings of the Baptist World Alliance. In addition, she taught English language classes while in Bangkok, Thailand, during her husband's year-long teaching exchange assignment.
The Grants moved to Arkadelphia in 1970 when her husband became president of Ouachita Baptist University. During their 18 years at Ouachita, Mrs. Grant was responsible for most of the campus hospitality for students, parents, trustees, donors, and other campus guests. She also was an active member of First Baptist Church Arkadelphia, where she sang in the choir and was a leader in women's and missions support ministries.
In addition, Mrs. Grant assisted her husband in the development of what is now the Consortium for Global Education (CGE). Relationships they developed during extensive travels for Ouachita and the Baptist World Alliance over the years contributed to the creation of this international consortium of more than 50 Baptist colleges and schools. In retirement, Dr. and Mrs. Grant were the volunteer leaders of CGE for 10 years.
Mrs. Grant was recognized by Ouachita Baptist University with the Distinguished Alumnus Award and the Purple & Gold Heart Award. In 2002, the American Mothers, Inc. Arkansas Association honored her as Arkansas Mother of the Year.
A memorial service for Mrs. Grant will be held at 10:30 a.m. on Saturday, September 28, at the First Baptist Church of Arkadelphia. A family visitation will follow at the church.
In lieu of flowers, memorial gifts may be made to the Daniel and Betty Jo Grant Center for International Education, in care of the Development Office, Ouachita Baptist University, OBU Box 3754, Arkadelphia, Ark. 71998, or to the Endowment Fund of First Baptist Church, 623 W. Pine Street, Arkadelphia, Ark. 71923. Final arrangements are entrusted to The Welch Funeral Home of Arkadelphia. Visit www.welchfh.net to sign the guest book.
Published September 10, 2019
OBITUARY SUBMITTED BY:
Welch Funeral Home
202 South Fourth Street, Arkadelphia, AR
Phone: 870-230-1400
http://www.welchfh.net