Evelyn Elaine Watson
Alexander, AR, 1951 - 2019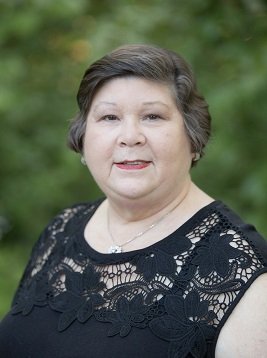 Evelyn Elaine Watson - On August 10, 1951, the world shone a little brighter as our Mom, Evelyn Elaine (Terrell) Watson, was born to our amazing grandpa, JW Terrell and his wife, Mary Evelyn Falconer Terrell in McKinney, Texas. While in Texas, Mom was able to enjoy the company of her Momma and Poppa Terrell. Mom formed a special bond with her Aunt Sissy that carried through their entire lives. Grandma and Grandpa had another daughter, Jacqueline Denise (Terrell) Tipps (Gary) who we lovingly refer to as Auntie Jac. Her mom must have wanted twins because she dressed them alike often. This tradition carried on to us when Mom would put us in those awful frilly dresses that itched with every move you made. Don't worry, though, because her grandgirls wore dresses alike too. So girls, y'all have a tradition to keep up!
At the age of 8, Mom moved to her "hometown" of Stigler, Oklahoma where her dear Gramm, Ethel Edna Sweet Falconer, lived. Mom created such a relationship with her Gramm. She knew one day when she became a grandmother herself, her babies would call her Gramm.
Not long after moving to ranch life in Stigler, "the baby" was born. Jerry Wayne Terrell was picked on and taunted by his two older sisters. But you know what they say about payback. Well, they got it! Mom and Uncle Jerry, along with his wife Vickie, had a wonderful friendship that Mom cherished. They blessed her with a niece, Stefanie and a nephew, Jerrod, who Mom might have loved more than us. Jerrod and his wife, Amanda, gave Mom one of the best gifts of her life when they had their first child, Jaxon Wayne Terrell. He may have been her great-nephew but he replaced us all the day he was born.
In 1969, Mom graduated from Stigler High and she still carried that Panther Pride until the day she died. Just this year she attended her 50th high school reunion. Mom was proud of her little hometown. We spent many hours on I-40 traveling to Stigler. Mom would jokingly say, "I just point the van in the right direction and it knows the way."
Mom left her little town to pursue a nursing degree at Oklahoma State University. Maybe she was a small town girl or maybe she just needed to be closer to her Daddy. Either way, she moved to Fort Smith, obtaining her RN license from West Ark College. She went on to fulfill a 40+ year career in nursing where she spent most of her time in the operating room at St. Vincent Infirmary in Little Rock. Mom made so many friends at SVI, I don't think a day went by after she retired that she didn't talk to at least one of them on the phone, and whoa could she talk on the phone!
It was in her career that she met the love of her life, James Deverne Watson. We will spare you the details but Dad said he was going to make her his and that he did on January 28, 1976. This marriage made Mom a step-mom at 24. James David, Richard Alan and Stephen Craig were dubbed "the boys" before us "girls" came along.
In 1979 she earned her favorite title "Mom" with the birth of Evelyn Marie (Watson) Tustin. Marie was such an easy baby she told dad she wanted to have another one. Dad said "No, I told you only one." But Mom ALWAYS got her way and in 1980 Elizabeth Michelle Copeland (Watson) turned their world upside down. Mom has said many times "if Michelle came first there would be no Marie." With that mom decided 2 is enough and we are settled into our home in Little Rock, AR. Where we attended Geyer Springs United Methodist Church and she was a member for 40 plus years
Mom may have been a nurse but she should have been a personal shopper. Dad said she could walk in a place and smell the most expensive thing. When we weren't shopping we were traveling. Mom would spend hours planning these month long trips where we would drive all over the country to see Battlefields, National Parks, President's homes or just a plaque on a rock. She would get behind the wheel in that van and we may end up in Canada where she had many family members that she loved to sit and visit with. Dad loved the beach so there was always a stop there so we could enjoy the sun and sand. We think she only agreed to that because that meant that she could go to the outlet malls. Mickey Mouse may know her on a first name basis as that was always a favorite stop along our vacation path.
One of the best experiences of our lives is when our parents opened our home to foreign exchange students. We earned 3 extra sisters through this amazing experience, Eva Lee from Hong Kong, China; Narissa Smanavanich from Bangkok, Thailand and Philippa Kim from Canberra, Australia. These girls will miss their American mom as they have stayed in touch with her over the past 20 plus years. There are so many more that are losing their "Mom" with her passing. She treated you like you were her own no matter if you wanted it or not. If you needed a big hug she would give it, you needed a spanking she could swing a paddle to your backside too. She was a mom to all! If you came to our house without a lick of manners you got a lesson quick fast and in a hurry. "No one will be rude, crude, totally unmannerly and socially unacceptable" around Elaine!
The boys blessed her with 5 grandchildren, Danny, Kristen, Kate, Ryan and Brandon. Marie had Julia Marie Haney (Kreg) in 1998 and her favorite role of Mom was quickly replaced with Gramm. In 2007 Britt Hinton couldn't wait one more day to make his arrival on his grandparent's anniversary; Bryson joined Gramm's crew in 2016 when Marie married Perry Tustin. Michelle gave her family their lucky charm on March 17, 2000 with the birth of Alivia Elizabeth Copeland. Nine years later Gramm's best friend was born, Aubrie Braelyn Copeland, Gramm's life was complete.
Foster Care and Adoption is something our family is very passionate about. In 2018, Asher Kruz Copeland and Emily Marie Pratt joined Gramm's family, followed by Avery Blake, Abigail Faith, Aspen Blair and Ashton Knox Copeland, earlier this year. If you were keeping track that is officially 16 grands, but so many other littles had the privilege to have our Mom as their Gramm.
We will miss the witty one liners, the truth she spoke even when it hurt, "the look" that only a mother can give but we find peace knowing she is reunited with our Dad who we lost 8 years ago.
Mom said "the perfect flower is a silk one otherwise I'll kill it." So in lieu of flowers we ask contributions be made to Project Zero a non-profit organization that matches waiting kids with forever families. If you wish to donate you may go to www.projectzero.org and follow the directions.
Visitation will be Sunday, September 15 from 5-7 p.m. at Little Rock Funeral Home, 8801 Knoedl Ct. (NW corner I-630 and Barrow Rd.). Services will be Monday, September 16 at 2 p.m. at the funeral home, officiated by Rev. Linda Singh. Interment will be Tuesday, September 17 at 2 p.m. at Garland Cemetery in Stigler, Oklahoma.
Arrangements by Little Rock Funeral Home, (501) 224-2200. Evelyn's online guestbook may be signed at www.littlerockfuneralhome.com.
Published September 15, 2019
OBITUARY SUBMITTED BY:
Little Rock Funeral Home
8801 Knoedl Ct., Little Rock, AR
Phone: 501-224-2200