Lila Mae King Thurman
Crossett, AR, 1937 - 2019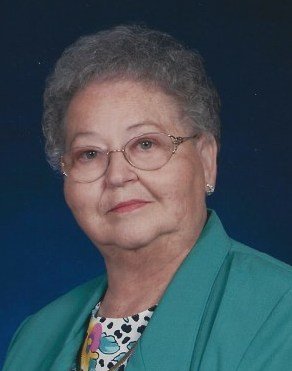 Lila Mae King Thurman, age 82, of Crossett, Ark. passed away on September 16, 2019. She was born on February 2, 1937 at Bruno, Arkansas to her parents, Frank and Goldie Suggs King. She graduated from Arkansas State Teachers College (UCA) in 1958 with a B.S.E. degree. She taught school for Hamburg School District for seven years, then she taught math at Price Elementary School in Crossett for 23 years before retiring in 1990. Lila was a member of Magnolia Baptist Church, Retired Teachers Association of Ashley County, The Cattleman's Association, a member of Ashley County Quorum Court for 16 years and Crossroads Cemetery Committee since 2015.
She will be remembered as a person who lived life to its fullest each day, a generous person with much love and compassion for others. She was a dedicated Canasta player. She played with the same group for over fifty years, never missing a game. She was a wonderful cook and enjoyed cooking for her family, extended family, deer camps, church family and friends. She was on the church cooking committee for several years. She enjoyed quilting, crocheting and canning the vegetables from her garden.
She is preceded in death by her husband of over 50 years, Marion Thurman (2008); her son, Steve Thurman (2012), two brothers, Buell King of Yellville, Ark. and Doy King of Renton, Wash. She leaves to cherish her memories, one son, Doug Thurman (Kristi); one granddaughter, Katie Thurman of Monticello, Ark.; one grandson, Taylor Thurman of Monticello, Ark.; two adopted grandsons, Colt Smith of Crossett, Ark. and Drew Smith of Boston, Mass.; three sister-in-laws, Joanne King of Yellville, Ark., Willie Deal and Carolyn Lochala, both of Crossett, Ark.
Funeral services are 10 a.m. on Wednesday, September 18, 2019 at Magnolia Baptist Church in Crossett, Ark. with Rev. Mike Griffith officiating. Pallbearers are Greg Stanley, Mitch Stanley, Bill Rice, BJ Pippen, Frank McMahan and Tony Blann. Honorary Pallbearers are John D. Carter, Mike Gates and Tony Lee. Interment is in Crossroads Cemetery under the direction of Jones Funeral Home, Inc. Visitation is from 5 p.m. until 7 p.m. on Tuesday, September 17, 2019 at Jones Funeral Home in Crossett, Ark.
Published September 18, 2019
OBITUARY SUBMITTED BY:
Jones Funeral Home
105 W. Third, Crossett, AR
Phone: 870-364-2171