Nelda Routon Janzen
Fayetteville, AR, 1928 - 2019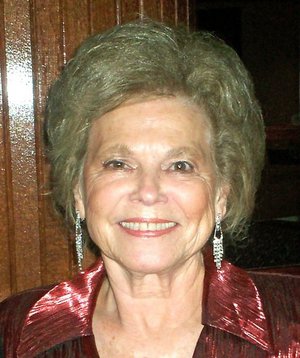 Nelda Routon Janzen, 90, passed away Monday morning, Sept. 16, 2019 at Circle of Life Hospice in Springdale, Ark. She was born December 14, 1928, in the Rondo Community of Texarkana, Ark., to Velma Haak Routon and Aubrey Routon.
Nel graduated from North Heights High School in Texarkana in 1947 where she excelled in sports, including basketball, softball, and track. She was a key member of the semi-pro "Smith-o-lene Oilerettes", winning the Arkansas AAU Independent State Basketball Championship, and qualifying for the National tournament in 1947.
Upon graduation from high school, she accepted a position as bookkeeper at Beasley Music Co, and later became secretary at Red River Arsenal. It was during this time that she met her future husband, Eldon Janzen. They were married on June 8, 1952, in Texarkana. While her husband completed his graduate degree at North Texas State University, Nelda served as secretary to the Dean of the College of Education.
She and her husband were active Methodists. In New Boston, Texas, she was awarded a life membership for service in the Methodist Women's Society. They have attended Central United Methodist Church in Fayetteville since 1970, where they enjoyed the fellowship of the Asbury Sunday School Class. During that time she served on the Board of Trustees, and was a member of the "Caring, Giving, Loss" committee, which offered solace to those who had lost a loved one, and delivered flowers to shut-ins and those enduring illness. She was a former member of the Iris Garden Club, University Wives, and Beta Sigma Phi.
Nel was a loving wife and placed her role as mother above her prior professional pursuits. She considered her two children as one of God's richest blessings and was always there for them. Her certain legacy was to rear them with the love and discipline necessary to allow them to become contributing members of society. Nel's family brought much joy into her life as she shared their career successes, and that was obvious as she supported her husband and kids over the years, attending concerts, marching contests, band banquets, etc.
She returned to work in1979 and enjoyed a long tenure at the University of Arkansas as Administrative Secretary for Dr Charles Oxford-Vice President for Academic affairs, and upon his retirement, continued in the Small Business Development Office in the College of Business until her retirement in 1995.
Nel was an avid reader, but her love for nature made gardening her most enthusiastic pastime in the spring and summer. She felt a nearness to God in the beauty of His creations and felt at home as she "played in the dirt"!
Nel's Christian faith bloomed at age 14 when she put on her nicest dress and walked across the road to become a member of the Rondo Methodist Church; from there she proceeded with the minister to the Red River for formal baptism.
Her love of animals, especially cats, was legendary in her family. Any "itinerant" visitor found a plate of food at her back door and adoption proceedings often followed. The most notable was a black, one-eyed, battle-scarred male who was given the title "Prince of Egypt". She often said that the animals talked and spread the word that free meals were available at Nel's house, and she regularly hired "cat sitters" to make sure the meal service for the strays continued in her absence.
Nel's friends knew her as someone whose beauty shone from the inside out. Her supply of greeting cards was plentiful and she never missed the birthday of a friend or relative. Nel was also an ardent student of the scriptures and attended bible studies for many years. She enjoyed religious writings and authors, as well as the Bible. Some of her favorite passages included: Numbers 6:24-26, Ecclesiastes 3:1-8, Isaiah 40:6-8, Isaiah 40:31, and Job 10:12.
Nelda is survived by her loving husband, Eldon; daughter, Jana Gorham (David); son, Scott Janzen (Detra) and grandson, Brant Gorham. Surviving nieces and nephews include Cindy Griswold, Mark Janzen, Robin Gartee, and Rhonda Barnette. She was preceded in death by an infant daughter, her parents, her brother and sister-in-law, Warren and Dortha Routon, and nephew Reggie Routon.
A memorial service and reception will be held at Central United Methodist in Fayetteville on Thursday, September 19, at 3 p.m., with the Reverend Anthony Holifield officiating. There will also be a reception for friends and family in Texarkana, Ark. on Saturday, Sept. 21, from 1-2:30 p.m., at the Rondo United Methodist Church, 2335 N. Rondo Rd. Memorials may be made to Central United Methodist Church or the Fayetteville Animal Shelter. Online condolences may be made at www.beardsfuneralchapel.com.
Published September 18, 2019
OBITUARY SUBMITTED BY:
Beards Funeral Chapel
855 S. Happy Hollow Road, Fayetteville, AR
Phone: 479-521-8551
http://www.beardsfuneralchapel.com