Gloria M. Ramsey
of Little Rock, AR, 1936 - 2019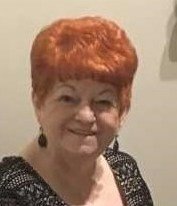 Gloria M. Ramsey, 83, of Little Rock, died Tuesday, 9/17 at Arkansas Hospice. She was born 2/6/36 in Clarksville, Texas to Elbert and Beatrice Humphrey. Her parents later moved to DeKalb, Texas where she met her first husband, John Ramsey, to whom she was married for 20 years. Gloria later moved to Texarkana, where she lived for many years.
She worked for Red River Army Depot for 32 years before retiring in 1988. After retirement, she held positions at East Funeral Home and Miracle Ear and worked as a sitter for several years.
Gloria was preceded in death by her parents, Elbert and Beatrice Humphrey, her former husband and father of her child, John Ramsey, brothers Rockland Dale Humphrey, Stephen Humphrey, and Stiles Humphrey, and sister, Sharon Kaufman. Survivors include one daughter and son-in-law, Sherrie and Frederick James of Little Rock, one grandson and wife, Courtney and Tammy Harvey of Texarkana, Ark., two bonus grandchildren, Magdalene James of Kansas City, Mo. and Frederick James Jr. of Little Rock, three great-grandchildren, Makayli Harvey, Malachi Harvey, and Avery Keener of Texarkana, Ark., two brothers, Dean Humphrey and wife Elisabeth of Denison, Texas, and Jerry Humphrey and wife Patsy of DeKalb, Texas. She is also survived by several nieces, nephews, and cousins, to include two special cousins, Edna Brem of Texarkana and Jimmie English of Sims, Texas and one very special nephew, Robert Ramsey of Texarkana, Ark.
A funeral service will be held 11 a.m. on Saturday, September 21, 2019 at East Funeral Home-Moore's Lane in Texarkana, Texas with Jimmy Guillot officiating Burial will be in Chapelwood Memorial Gardens under the direction of East Funeral Home-Moores Lane. Online tributes can be posted at www.eastfuneralhomes.com.
Published September 20, 2019