Eleanor Ferguson Baldridge
Conway, AR, 1923 - 2019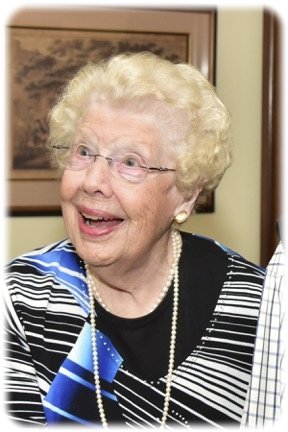 Eleanor Ferguson Baldridge of Conway died of natural causes at her home on Sunday, September 22. Eleanor Marian Ferguson was born in Stuttgart, Arkansas on September 25, 1923 to Alice Marian Beeble and William Clarence Ferguson. She is survived by her husband of over 73 years, Doyle Webb Baldridge; her three daughters Betty Baldridge Hubbard (Bill) of Little Rock, Olive Jane Baldridge (Walter Joly) of Salem, Mass., Susan Baldridge Mayes (Mark) of Bisbee, Ariz.; four grandchildren and two great-grandchildren. Her parents; and her brother, W.C. Ferguson, preceded her in death.
When Eleanor was five, her mother died. Two years later, her father married Olive Meadors, a teacher at the Stuttgart high school where he was principal. Eleanor was forever grateful to "Mamaw" for taking on the task of rearing three young children and for replacing her flour sack dresses with ones made from Mamaw's own dresses. The family moved to Conway when Eleanor was in high school since her father took a position at Arkansas State Teachers College (now UCA). Eleanor and Doyle met in high school and started a correspondence during WWII when Doyle was in the army and she was earning her bachelors and masters in elementary education. Following his return they courted for three months and were married on June 7, 1946.
Eleanor helped put Doyle through college in Conway, along with having their first daughter, Betty. Then the couple moved to Dallas for dental school where she again taught school and had a second daughter, Jane. The family then moved to Gurdon, Ark. where Doyle was the town dentist. After living there for seven years, they decided that Doyle would go back to school to get his orthodontic degree. Once again, she returned to the classroom to support the family for two years in Memphis. The family moved to Shreveport after Doyle received his orthodontic degree, and they added a third daughter, Susan, to the family. Even though she never taught school again, Eleanor served as a second grade Sunday School teacher for many years at Broadmoor Baptist Church and was involved in many other capacities through the sixty years she was a member.
Eleanor was prescient in realizing that south Shreveport was growing and urged Doyle and his brother, Bill, a dentist, to build an office on University Drive. Eleanor became the practice's bookkeeper as well as the financial manager for the University Plaza Building. She and Doyle made ten consecutive mission trips to Nigeria to help Baptist dental missionaries, and in later years, went to Russia to help struggling orthodontists modernize their practices. They both enjoyed traveling to almost every continent for orthodontic meetings as well as for pleasure. Eleanor and Doyle returned to Conway to live full time in January 2018 when managing two residences and a four-hour drive became too daunting. Because church was always integral to their lives, they soon joined First Baptist Church, making the circle back to their Conway roots.
The memorial service will be Saturday, September 28 at 1 p.m. at Conway First Baptist Church, 1719 Robinson Avenue. Visitation with the family will follow. Online Guestbook available at www.rollerfuneralhomes.com/conway.
Published September 24, 2019
OBITUARY SUBMITTED BY:
Roller-McNutt / Conway
8th and Vine, P.O. Box 249, Conway, AR
Phone: 501-374-2731