Raymond Jack Qualls
Baxter Springs, KS, 1942 - 2019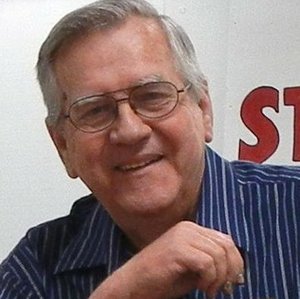 Raymond Jack Qualls of Baxter Springs, Kansas passed from this life on Friday September 13, 2019 at Quaker Hill Skilled Nursing, he was 76 years old.
Raymond was born on November 23rd, 1942, in Blue Mound, Kansas to Lee Raymond and Pauline (Williams) Qualls. Raymond was the fourth of eight loving children; Louise, Nancy, Robert, Raymond, Roger, Linda, Anita, and Ricky (who passed shortly after birth). Raymond's love of music comes from his parents and through his siblings. He was involved in several bands throughout school and performed many concerts in the immediate area.
After graduating High School in 1960(?) he joined the Army and served in Korea as a mechanic. After his service he returned to the area and continued his musical career founding the Siloam Springs Steel Guitar Association and the Kansas Steel Guitar Association. Raymond loved music and loved his family.
Raymond is survived by three sons Alan Qualls with his wife Melissa, Ryan Qualls with his wife Charity, and Robbie Qualls all of Baxter Springs, Kan., one brother, Roger Qualls with his wife Joyce of Young, Ariz., and four sisters Louise Thomas of Riverton, Kan., Nancy Falling of Glendale, Ariz., Linda Eden of Baxter Springs, Kan., and Anita Flower of Erie, Kan. He is also survived by 14 grandchildren and eight great-grandchildren. Raymond was preceded in death by his parents and brother, Bob Qualls of Baxter Springs, Kan.
In lieu of services a day of celebration will be announced at a later date. The family has entrusted Derfelt's Baxter Chapel for cremation. Online condolences can be made at derfeltfuneralhomes.com.
Published September 24, 2019