Kenneth L. Cobbs
Rogers, AR, 1931 - 2019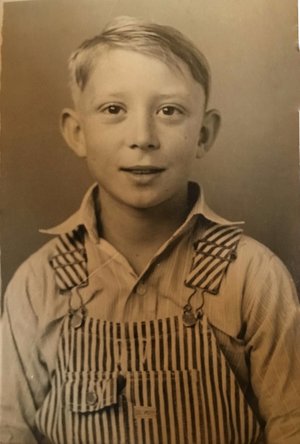 Needing more sarcasm in Heaven, Kenneth Lavelle Cobbs of Rogers was called home by the Lord on Friday, September 20. Kenneth was born April 1, 1931, on the family farm in Creston, Natchitoches Parish, Louisiana, to George Cobbs and Ora Mae Weaver Cobbs. Kenneth was helped into this world by his midwife, Aunt Renner, a woman born into slavery.
Kenneth spent his childhood in Creston before the family moved to Norphlet, Arkansas, following World War II. As a Norphlet High School Leopard, Kenneth lettered in football and was All State in the 110 hurdles. He received his first broken nose from a disagreement with his opponents from Smackover, followed soon after by another from opponents from Monticello. He broke it again his Senior year when he missed a bridge, totaling the family Jeep. The circumstances were never fully explained.
Kenneth started off to college, the first in his family, at Southern Arkansas University. With the start of the Korean War, he put college on hold and enlisted in the Air Force. During 1952 and 1953 he served in the 5th Communications Group as a radio operator at "The Castle" in Seoul, working periodically with the USS Missouri and HMS Glory. Having never been outside Arkansas and Louisiana, he found the Air Force welcoming him to San Antonio, Salina, Kansas, Seattle, San Francisco, Tokyo, Seoul, Hiroshima, and Iwakuni. This contributed to a lifelong dislike of travel and a preference to sit on his porch and drink coffee.
As a newly minted civilian, Kenneth enrolled at the University of Arkansas. It was here that he discovered his love of business and his love for Wanda Sue Trostle following a blind date set up by H.L. and Jody Bryles. In 1958 Kenneth got his degree from the U. of A. and married Wanda Sue. They moved to Little Rock and then to Rogers, where Kenneth ran the Esso bulk plant.
With Wanda Sue and Rogers, Kenneth found himself exactly where he wanted to be. He owned Cobbs Texaco and, with Lyndell Thomas, Hooten Equipment Company in Springdale. He was a member of First United Methodist Church, the Jaycees, the Quarterback Club, and, when his two sons came along, he was a Cub Scout Den Leader. He was a lifelong Democrat until he became a lifelong Republican when Ronald Reagan took office.
Kenneth is survived by two sons, Bart Cobbs and wife, Elizabeth of Philadelphia, Pa., Barry Cobbs and wife, Kristen of Rogers; his grandchildren, Emerson, Sam, Kenneth Benjamin, and Evangeline; his sister, Yvonne Evers of Tyler, Texas; and many nieces, nephews, cousins, and in-laws.
Visitation will be Friday, September 27, 2019 from 5 until 7 p.m., at First United Methodist Church in Rogers. His funeral service will be Sunday, September 29, 2019 at 2 p.m., at First United Methodist Church. A private burial will be on Monday in Rogers Cemetery.
Published September 25, 2019
OBITUARY SUBMITTED BY:
Rollins Funeral Home
1401 W. Hudson Rd, Rogers, AR
Phone: 479-631-6617