Micah Dillon Loy
Benton, AR, 1992 - 2019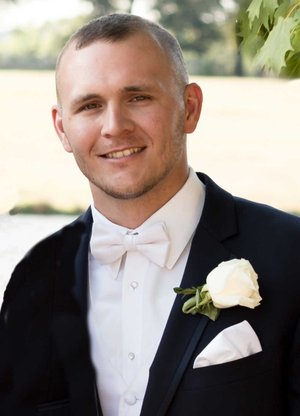 SSG Micah "Dillon" Loy, age 27, of Benton, passed away on Wednesday, September 25, 2019. He was born on April 7, 1992 in Benton, the son of James Michael Loy and Gayla Lee Fyffe Loy. On June 16, 2018, he was married to Hannah Deputy.
Dillon was employed with Georgia-Pacific in Gurdon and was serving in the Arkansas Army National Guard. He and Hannah attended Calvary Baptist Church in Benton. Dillon enjoyed the outdoors, especially mountain biking, a sport he picked up from his Dad. He always loved being together with his family.
He is survived by his wife, Hannah Loy of Benton; his son, who is presently on the way, and will be known as Noah Loy; his parents, Mike and Gayla Loy of Bismarck; his brother and sister-in-law, Cody and Tiffany Quillin of Bismarck; two sisters and brothers-in-law, Cassie and Chris Cagle of Gurdon and Kayla and Clint Stockton of Prescott; his maternal grandmother, Sally Walker of Gurdon; his paternal grandmother, Shirley Loy of Arkadelphia; his father-in-law and mother-in-law, Sean and Denise Deputy of Kirby; five nieces; three nephews; and a very special cousin, Chandler Walker of Gurdon.
Services will be held at 2 p.m., Monday, in the Davis-Smith Funeral Home Chapel, Glenwood, with Bro. Ollie Trout officiating. Visitation will be Sunday, 6 p.m. until 8 p.m., at the funeral home. Interment, with military honors, will be conducted in Sweet Home Cemetery near Amity. Guest registry is at www.davis-smith.com.
Published September 28, 2019