Samuel J. Harpole
Garfield, AR, 1928 - 2020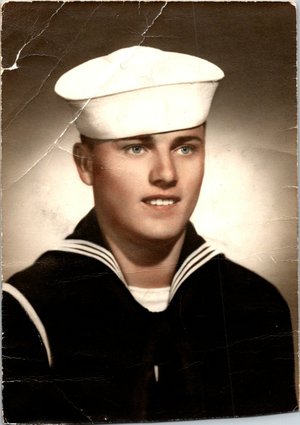 Samuel J. (Jerry) Harpole, 91, of Garfield, Ark., passed away on March 30, 2020, at the Arkansas Veteran's Home in Fayetteville, where he had resided since March 23. He was born on May 6, 1928, in Palestine, Ark., to Samuel David and Dell (Barnett) Harpole.
Growing up in the Arkansas Delta as the oldest son of sharecroppers, he developed a strong work ethic early in life. At an age when most children now are enrolling in pre-school, he was expected to start picking cotton. He left school in 8th grade in Marvell, Ark., because he was needed on the farm. On March 14, 1946, at age 17, he enlisted in the Navy and proudly served our country until his discharge December 9, 1951. He was stationed in Bremerton, Wash., at the time and met a pretty girl, Marlys Gochanour, who had moved to Seattle in 1949 from North Dakota. They married on January 12, 1952, in Seattle and enjoyed over 67 years of marriage until Marlys passed away on July 10, 2019. Upon his discharge from the Navy, Jerry became a meat cutter in the Seattle area for the next 15 years. From 1957 to 1967, he went into the grocery store business, which included a butcher shop. Jerry never met a stranger and was a natural as a small business owner.
In the summer of 1967, they sold their grocery store and home in Edmonds, Wash., packed up their three children and belongings, and made a bold move to Northwest Arkansas. They bought a farm in Garfield, Ark., where they lived out the remainder of their lives with Jerry taking care of the cattle and maintaining the farm up until just a year ago when he was diagnosed with Mesothelioma. Upon moving to Arkansas, he became a carpenter overnight and a very good one at that! He worked for several building contractors thru the years, but also built numerous homes on his own. He was a perfectionist and a genius in many ways and could literally sketch a floor plan on a cardboard box and build a house from the ground up. Moving to Arkansas was one of the best decisions they ever made because he had more time to spend with his family, his pride and joy. Jerry and Marlys enjoyed going to countless ballgames together up until just a year ago. They especially enjoyed all activities involving their own children, grandchildren, and great-grandchildren. Jerry coached their son in baseball from Little League up thru adult men's softball and coached his granddaughters' softball team for 10+ years, when he became known affectionately as "Coach Papa". He had a fabulous memory and a knack for telling some great stories up until his last days. He was also a great dancer, which is one reason Marlys fell in love with him. They are together again dancing the Jitterbug on the heavenly streets of gold!
Jerry was preceded in death by his wife, Marlys (Gochanour) Harpole; his parents, Samuel D. and Dell Harpole; his sisters, Marie Durham, Eleree Farris, Louene Herndon; his brothers, Boyd Harpole and David Harpole, who died as a toddler.
Jerry loved and adored his immediate family who all live in Northwest Arkansas! He is survived by his children, Vicky Garrett (Les) of Springdale, Karen Walker of Garfield, Sam Harpole (Cyndy) of Rogers; his grandchildren, Jennifer Jones (Aaron), Amanda Hitt (Brandon), Melody Zechiedrich (Leonard), Matthew Dickhut and Tanner Harpole; his great-grandchildren, Brooklynn, Charlie and Zane Zechiedrich, Roman and Bauer Hitt, Hawkins Wilkerson, and he was anxiously awaiting the arrival this summer of his seventh great-grandchild, Vivian Wilkerson. He is also survived by his sisters, Bobbie Black of Texas, Jimmie Lee Ludwig of Washington, and his brother, Eugene Harpole of Arkansas; and dozens of nieces and nephews.
Due to COVID-19, A celebration of Jerry's life will be held later with interment at the Veteran's Cemetery in Fayetteville, Ark. Arrangements are by Benton County Memorial Park Funeral Home in Rogers. In lieu of flowers, memorials may be made in his memory to Circle of Life, 1201 NE Legacy Parkway, Bentonville, Ark., 72712 OR to the charity of your choice.
Online guestbook: www.bentoncountymemorialpark.com.
Published April 12, 2020
OBITUARY SUBMITTED BY:
Benton County Memorial Park Funeral Home and Crematory
3800 West Walnut, PO Box 328, Rogers, AR
E-mail: kflowell@gmail.com
Phone: 479-636-2412
http://www.bentoncountymemorialpark.com/