Linda Louise Haney
of North Little Rock, AR, 1929 - 2020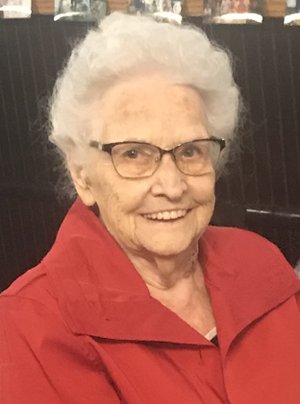 Linda Louise Johnson Haney, 90, of North Little Rock, Arkansas passed away on April 26, 2020. She was born on September 18, 1929 in Reydell, Arkansas.
Mrs. Haney and her husband owned and operated Haney Auto Supply Warehouse in North Little Rock for 41 years. She is remembered for her generous gifts (usually anonymous) to those in need, wise counsel and wit. She was a joy to be around and known as the person who gets things done. The family will greatly miss her sensitive, loving heart and contagious laugh.
Her greatest joy was being with her family. The Lord blessed her with travels in the states and amazing international trips. Family members remember Mrs. Haney as a strong and generous matriarch who loved to host family get-togethers and fun sleep-overs with her grandchildren. Throughout the years, she opened her home to many relatives, friends and new friends she had just met, to live for periods of time (sometimes years). She was a longtime member of Scott United Pentecostal Church and the Church at Second and Buckeye.
She is survived by her children, Patricia (Charles) Hoeffken of North Little Rock, Stephen (Patricia) Haney of Sherwood, and Melody (Gary) Dycus of North Little Rock; grandchildren, Jerry Haney Jr., Charles Hoeffken III, Tiffany Moore, Candy Blackwell, Steve Haney, Brittany Brewer, Crystal Holsted, Charity Dycus, Courtney Dycus, Gary Dycus, Shawn Haney Ward and Linzy McGuinty; great-grandchildren, Anthony Haney, Nathaniel Haney, Melanie Richie, Jordan Mueller, Haley Blackwell, Brock Blackwell, Stella Brewer, Cash Brewer, Jaci Holsted, Lauren Holsted, Knox Dycus, Tate Dycus, Crue Dycus, Emily Ward, Breanna Ward, Keeley Ward, Lucy McGuinty and Sophie Ritchie; and cousin, Mary Blakley, who was more like a close sister and best friend. She is preceded in death by her husband of 71 years, LeRoy Haney; sons, Jerry Haney Sr. and Melvin Haney Jr.; and granddaughter, Tamara Haney.
Memorials may be made to Scott United Pentecostal Church Building Fund or Ollis Scholarship Fund at First Pentecostal Church. Visitation is 3 p.m. – 7 p.m., Wednesday, April 29, 2020 at Smith-North Little Rock Funeral Home, 1921 Main Street. Graveside service will be 2 p.m., Thursday, April 30, 2020 at Mulberry Cemetery in England, Arkansas. Guestbook at www.SmithFamilyCares.com.
Published April 28, 2020
OBITUARY SUBMITTED BY:
North Little Rock Funeral Home
1921 Main St, North Little Rock, AR
E-mail: mail@nlrfh.com
Phone: 501-758-1170