Gula Lytle
Pine Bluff, AR, 1931 - 2020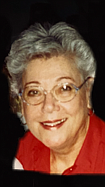 Gula Lytle, 88, of Pine Bluff, Ark., died Wednesday, July 29, 2020. Born Gula Mae Claterbaugh December 1, 1931, in Miami, Texas, she was a daughter of Ora Lee Claterbaugh and Johnnie Morton Claterbaugh. She lived her early childhood in the panhandle of west Texas, then moved as a young girl with her family to Fayetteville, Ark., where she finished high school. She married Jim Lytle in January 1952, and moved to Little Rock while he attended medical school.They had three boys, Jimbo, Johnny, and Joe.
Mrs. Lytle raised her family in Batesville, Ark., from 1958 until 1978 when she moved back to Fayetteville. Her gift was raising and caring for children. Multiple trips to Little Rock to visit museums, art shows, stage plays, and baseball games filled the life of her children. She went on to work as a nanny in Greenville, S.C., Tulsa, Okla., and Little Rock, Ark., caring for young children in homes where they found she had much to contribute. She moved to Pine Bluff in 1998, where she enjoyed countless encounters counseling people with Weight Watchers, babysitting untold number of babies and children and being around her own grandchildren. She loved reading and traveling and was a long-time member of Bible Study Fellowship.
She raised her children as members of Central United Methodist Church in Batesville, Ark., and was a member of Pine Bluff First United Methodist Church.
Surviving family include one sister, Johnnie Claterbaugh Williams; her three sons, Jim E. Lytle II, of Washington D.C., John O Lytle, M.D. of Pine Bluff Ark., and Joe M. Lytle of Springdale, Ark.; grandchildren, Booker Lytle and Graci Lytle of Little Rock, Mary Jane Lytle of Fayetteville and John Lytle Jr. of Dallas, Texas.
Cremation services have been arranged by Ralph Robinson & Son, Pine Bluff, Ark., with a private ceremony for family only. Online register: www.ralphrobinsonandson.com. Memorials may be made to First United Methodist Church, PO Box 8003, Pine Bluff, Arkansas 71611.
Published August 1, 2020
OBITUARY SUBMITTED BY:
Ralph Robinson & Son
807 South Cherry Street, P.O. Box 5254, Pine Bluff, AR
Phone: 870-534-3131