Janie Florene Mullins Butler
Little Rock, AR, 1921 - 2020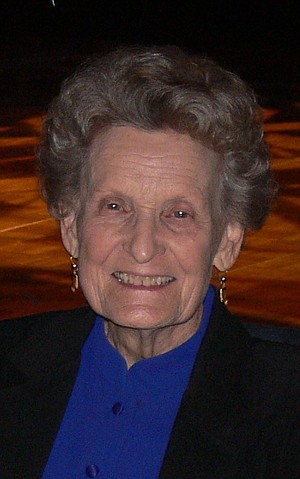 JANIE FLORENE MULLENS BUTLER departed this life on July 30, 2020, after 99 years of unselfish devotion to others. Her zest for life, gentle spirit, and influence for good, lives on in the memory of all who knew her.
Janie was born February 1, 1921 in El Paso, Ark., to Lewis and Nettie Jackson Mullens.
She grew up in Little Rock. In May of 1938, she graduated from what was then Little Rock Senior High School, and married Coy Phillips Butler the following Christmas Day. During the early years of WW II, she and Coy, with two small sons, worked and fought in the war effort. Shortly after the war was over, a third son was born and they lived in the Geyer Springs area.
Janie was employed for 20 years with the Arkansas Rural Endowment Fund, retiring in 1978 as Assistant Manager. Deservedly, she took pride in having facilitated in the funding of college tuition loans to deserving students from every county in the state of Arkansas.
As the matriarch of a large family, she was a kin-keeper who taught her family how to love and cherish one another. She held them together by hosting family reunions and holiday gatherings.
In 2001, she moved to the Cottages of Otter Creek, where she lived independently and enjoyed making new friends. It was there she established a volunteer sewing group, "The Cottage Cutters", who made pillows, aprons and bibs and then donated them to hospitals and nursing homes.
A member of the Pleasant Valley Church of Christ at the time of her passing, she loved and was loved by Church families in five congregations in Pulaski County where she worshipped throughout her life.
In addition to her parents, she was preceded in death by her husband, of 57 years, Coy Butler, and a beloved great granddaughter, Kayla Brooke Butler.
She is survived by three sons and three daughters-in-love: Doug and Sharron; Jerry and Sharon; and Toby and Kay; eight grandchildren; 14 great-grandchildren and seven great-great-grandchildren. She is also survived by two siblings, Edward "Soney" Mullens and Patricia Hall Alcorn and their offspring, who all called her "Aunt Sister". These special nieces, great nieces and nephews and their families were as beloved to Janie as her own children. People who came to know her, many of whom have no familial relationship at all, called her GranJanie or Aunt Florene. The family of Paul and Mary-Jo Weare and the friendship of Wanda Shipman were especially dear to her.
"Florene," a chapter in the electronic book Mothers, Memories and Birds, published earlier this year, recounts the legacy of her life.
Memorial gifts, in lieu of flowers, should be made to "Children's Homes, Inc." of Paragould, a charity where she volunteered for many years.
Family Visitation and a memorial service will be held on Tuesday, August 4th, at the Pleasant Valley Church of Christ in Little Rock, Ark. Visitation will be held at 10 a.m., and a Memorial at 11 a.m. The family will have a private graveside service at 10 a.m., on Wednesday, August 5, at Forest Hills Cemetery in Alexander, Ark.
While she was living, Janie had her own way of doing things and tending to details. She even left directions for the writing of this obituary. She requested that it end, not with mournful words of regret and sadness. "The final words," she said, "Should be this bit of advice: Life should not be a journey to the grave with the intention of arriving safely in a pretty well-preserved body; but rather to skid in broadside, thoroughly used up, totally worn out, and loudly shouting, 'WOW! What a ride! Thank you, Lord!"
Published August 2, 2020
OBITUARY SUBMITTED BY:
Griffin Leggett Healey & Roth
5800 West 12th Street, Little Rock
Phone: 501-661-9111