Ed Thompson
Pine Bluff, AR, 1923 - 2020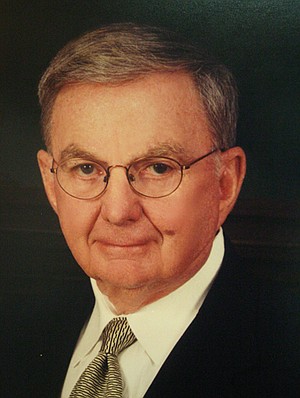 L. E "Ed" Thompson, age 97, of Pine Bluff, died Tuesday, August 11, 2020. Born February 10, 1923, at Memphis, he was the son of the late Lushen Blackburn Thompson and Marjorie McRee Thompson. Mr. Thompson was reared and educated at Earle, Ark., and graduated from Earle High School in 1941. He began his college education at Arkansas State University and, after a stint in the United States Army Air Corps from 1942-1944, graduated from the University of Arkansas at Fayetteville in 1947 with a Bachelor of Science in Agriculture.
He farmed at Earle for several years and then went to work for the U. S. Army Corps of Engineers on a surveying crew and as a dredging inspector. In 1951, he moved to Pine Bluff to work for the Federal Compress and Warehouse Company, where the vast majority of the cotton produced in Arkansas was held prior to shipment. In 1961, he went to work for Pine Bluff Warehouse Company, where he started as manager and ended up as owner of the company, which operated three ports along the Arkansas River at Pine Bluff, Fort Smith, and Clarksville, along with another three ports at Helena, West Memphis, and Osceola on the Mississippi River.
Ed Thompson was a visionary when it came to the transportation of commodities by river barge. The McClellan-Kerr Arkansas River Navigation System was in its infancy in 1971 when he took another big step -- building the Port of Pine Bluff along with several other ports along the Arkansas River. The system of locks and dams helped make the river more stable and also eased flooding. This allowed year-round barge traffic, which changed the way that many Arkansas companies moved their products to ports worldwide. He also served as a past chairman of the Arkansas Waterway Commission.
Other business ventures included president and owner of Arkansas Trucking Company, Inner City, Inc. (steel fabrication and real estate), Christian Homes, Ltd., and Apache Moving and Storage in Little Rock. He was also active in real estate investing.
Ed was a member of Trinity Episcopal Church, and was a charter member of Grace Episcopal Church in Pine Bluff. He was a Mason, a member of the Little Rock Consistory of Scottish Rite Bodies, and the Sahara Shrine.
He and his life partner, the late Wanda Bateman, began Margland, Inc. which operated a bed and breakfast house in Pine Bluff. Over their 30-plus years of operation, they provided warm Southern hospitality and entertained visitors from around the world. He and Wanda were active in many charities, including the THV-11 Annual Cereal Drive and the American Cancer Society. Even though he had retired from active business years earlier, his charity work carried on for the rest of his life.
Survivors include two daughters, Marjorie Thompson Hart and husband, Bob, of Pine Bluff, and Jeanne Thompson Wilson and husband, Larry, of Little Rock, formerly of Memphis; four grandchildren; and four great-grandchildren.
Private graveside services will be held Friday, August 14, 2020 in Cogbill Cemetery at Wynne, Ark., with the Rev. C. B. Baker officiating. Arrangements are by Ralph Robinson & Son Funeral Directors.
Memorials may be made to the American Cancer Society-Arkansas Chapter, 2222 Cottondale Lane, Suite 310, Little Rock, Ark. 72202 or at Cancer.org; or the Jefferson County Humane Society, Post Office Box 2233, Pine Bluff, Ark. 71613-2233. Online condolences may be shared with the family at RalphRobinsonandSon.com
Published August 14, 2020
OBITUARY SUBMITTED BY:
Ralph Robinson & Son
807 South Cherry Street, P.O. Box 5254, Pine Bluff, AR
Phone: 870-534-3131