Lynn Berg Kee
Horseshoe Lake, AR, 1930 - 2020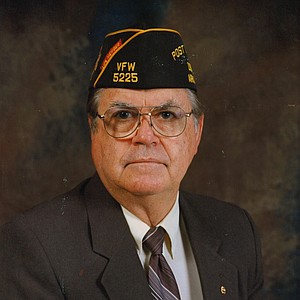 Lynn Berg Kee, 90, of Horseshoe Lake, Ark., passed away on August 14, 2020, at his home. He was born to Luther and Minnie Kee, on June 12, 1930, in Dyersburg, Tenn.
He was preceded in death by his parents; his loving wife, Adean Mathis Kee; his two brothers, Gerald and Andrew; and his three sisters, Betty Lou, Laura, and Mary Sue.
Those left behind to cherish his memory are his two sons, Lynn B. Kee Jr., and Jeffrey Manasco; his two daughters Sheila Standley (Larry) and Tamera M. Harrison; his three grandchildren, Jamie Roberson (Matt), Lindsay Reinold, and Andrew Scott Harrsion (Liz); his four great-grandchildren, Madesyn, McKenzie, Gabriella, and Briar; and a host of nieces and nephews.
Lynn joined the United States Air Force in 1950 and retired after 20 plus years of honorable service to his nation. He also was a proud member of the Veterans of Foreign Wars and served proudly at the Commander of the West Memphis VFW. Lynn also served and retired as the County Veteran Service Officer for Crittenden County, Ark. In addition to serving his country and county, Lynn also played an instrumental role in the development of Horseshoe Lake, Ark., community and served as both an alderman, and two terms as the mayor. Lynn was a faithful member of Horseshoe Lake Baptist Church. When Lynn was not busy serving his fellow man, he loved being with his family, and especially enjoyed pickin' and grinnin' with his guitar.
A visitation will be held at Crittenden Memorial Park Pavilion, 2206 US-64, Marion, Ark., on Monday, August 17, 2020, from 10 a.m. to 10:30 a.m., with a graveside service immediately following.
Online condolences may be made at:
RollerFuneralHomes.com/WestMemphis.
Published August 16, 2020
OBITUARY SUBMITTED BY:
Memoriams.com
391 Inverness Parkway, Suite 300-B, Englewood, CO
E-mail: helpdesk@memoriams.com
Phone: 877-705-4995