John Tolbert Harris
Rogers, AR, 1940 - 2020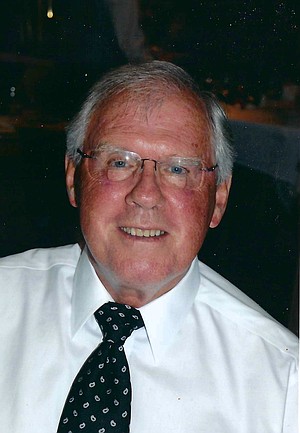 John Tolbert Harris passed away on Tuesday August 25, 2020, at his home surrounded by family. He was born September 20, 1940, in Rogers, to Laurence and Lynda Harris. He was a 1958 graduate of Rogers High School and a 1962 graduate of Hendrix College in Conway. John's career included being a bank examiner, a loan officer at First National Bank (now Arvest) with his father and two uncles, Gene and Ray Harris, and an investment broker at Merrill Lynch. In 1985, he married the love of his life, Kaye Wilkinson, and five years later he decided to retire and have fun. Kaye and John had an apple and pear orchard, blueberries, raspberries and blackberries, native plants, and a variety of unique trees. John was happiest working in his yard and garden, baking breads and keeping Kaye busy picking and preparing their produce. You would often find John checking in to see friends and family to share his homegrown produce and his delicious bread. He often provided First United Methodist Church with his homemade bread for Communion service.
John was an unconventional man. He loved to share his knowledge and encourage others to discover new things. Whether it was to try new foods (persimmons and rhubarb), experience new things (cut down Christmas trees in Anderson, Mo.), grow new and interesting plants, learn how a chrysalis turns into a butterfly, or teach his grandson, Zoel, how to drive a golf cart at age three, John was all about new adventures. From his optimistic personality to his laughter, to shying away from the camera, to helping young people with the proper use of the English language--John kept all those around him entertained. John was great at selecting unusual plants and trees and would go out of his way to find that special one, or two or three to bring home. He loved studying every plant, when it bloomed and for how long and what environment it liked best. He was persistent at recording the rainfall and diligent at keeping up with the Farmer's Almanac. John had many friends and always showed interest in others accomplishments. He never met a stranger. He was generous, sincere, kind-hearted, forgiving and a loving man.
As a master gardner serving on the state and local boards and President twice, John was host to several garden tours on their land. He was a Rogers Rotarian and a member of Central United Methodist Church. John served his community as Commissioner and Chairman of the Board of the Rogers Waterworks and Sewer Commission from 1989 to 1996.
John is survived by his wife, Kaye; his three daughters, Laurie (Jim) Walker, Sandra Lockhart and Jill (Mike) Vaughan; grandsons Jack Lockhart and Zoel Vaughan; his sister Mary Lynn Reese and his "favorite" sister-in-law, Vivian Dunnaway; and many nieces and nephews.
The family would like to extend their heartfelt gratitude to John's caregivers, Carrie and Amy, and to Circle of Life Hospice. In lieu of flowers memorials may be made to: Circle of Life Legacy Village, 1201 NE Legacy Pkwy, Bentonville, Ark. 72712; Central United Methodist Church, 2535 W New Hope Road, Rogers, Ark. 72758 or First Untied Methodist Church, 307 W Elm, Rogers, Ark. 72756. Due to Covid-19, A family graveside service will be held at the Rogers Cemetery under the direction of Stockdale-Moody Funeral Services. To leave an online condolence please visit www.stockdalemoody.com
Published August 27, 2020
OBITUARY SUBMITTED BY:
Stockdale-Moody Funeral Services
2898 West Walnut, Rogers, AR
Phone: 479-631-1353
http://stockdalefuneral.com/