Kent David Mckelvey, M.D.
of Little Rock, AR, 1941 - 2020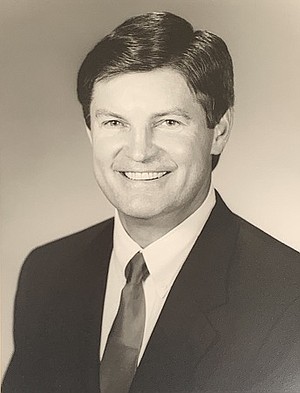 KENT DAVID MCKELVEY, M.D., 79, died peacefully at his Little Rock home August 26, 2020. Born to the Rev. Gaither and Mildred Stevenson McKelvey on May 10, 1941, in Maynard, Arkansas. David frequently moved with his family when his father became pastor of Methodist churches throughout the South.
In a journal that David wrote at age 15, he penned humorously about his childhood life in general and in particular, about life as a preacher's son, noting that there were times when he had to hear his father deliver the same sermon four times in the same day. Such occasions, perhaps, accounted for the day that he and a young buddy decided "to burn the church down" so they wouldn't have to attend services the next Sunday. "We had used about half a box of kitchen matches when we were discovered," he wrote. "That was about the worst whipping I ever received."
At the beginning of his senior year in high school, David's family moved from Earle to Jacksonville where he became not only a popular and high-achieving student but also an all-district halfback on the varsity football team, a mayor of Boys State, and also served as a page in the House of Representatives under John McClellan.
After high school, David enrolled at Arkansas State University where he studied pre-med for two years before transferring to Hendrix College from which he graduated with a Bachelor of Arts in biology. David graduated from University of Arkansas Medical School in 1967.
After completing his internship, David joined the United States Air Force as a Captain in the Medical Corps, was detailed to the U.S. Army. David was deployed to Vietnam for a two-year tour of duty, 13 months of which he served as an anesthesiologist in Long Binh.
David often recalled that the most difficult thing about his Vietnam tour of duty, besides leaving his family, was seeing gravely wounded young men before surgery, often administering anesthesia to them while knowing that their wounds were not survivable.
After seeing so much pain and death in Vietnam, David decided that he'd much rather bring life into the world and moved to Memphis where he completed his OB-GYN Residency at the John Gaston Hospital/University of Tennessee.
After residency David practiced as an OB-GYN for 45 years and was the oldest surviving partner of The Women's Clinic to which he devoted so much of his life and from which he retired in 2010 after 36 years of service. It has been estimated that David delivered thousands of babies during his career.
When he wasn't delivering babies, he was either playing tennis or "playing the ponies." He loved everything about horses, from riding them to betting on them at Oaklawn, and after a serious horseback accident, his love for horses was unabated.
David married Cheri Johnson in Aspen, Colorado, with whom he enjoyed a loving 35-year marriage.
David was a man of fierce passion, especially when it came to his family. Family vacations were meticulously planned, documented, and usually involved some sort of patented McKelvey headgear/t-shirt, as well as rigorously-enforced group workouts (which will not necessarily be missed!). David especially enjoyed spending time in the Colorado Rockies and in the Caribbean.
A man and physician who seemingly knew everyone, David knew how to make each and every person he encountered feel special. He was a pillar of his community, and a true inspiration whose quiet yet steely influence will not be forgotten.
Left to cherish David's legacy are his wife Cheri; children Kent D. McKelvey Jr., (Elise Higdon), Samantha McKelvey (Brian Teeter), Betsy McKelvey Peeler (Michael), and his son Matthew McKelvey. Others whose love for David will continue are grandchildren Kent David McKelvey III., Caroline McKelvey, Helen Teeter, Sam Peeler, Ruby Peeler, his sisters Janie McKelvey Robertson and Jackie McKelvey Ray, and a host of loving nieces, nephews, cousins and family of choice.
David will be sorely and eternally missed, but would be the first to tell us, "Don't forget I love ya. Keep movin'. Over and Out. Come and Gone!"
A visitation will be held from 4-7 p.m., Monday, August 31, at Smith Little Rock Funeral Home, 8801 Knoedl Court, Little Rock. A private service will be held Tuesday, September 1, followed by interment at the Pulaski Heights United Methodist Church Columbarium.
In lieu of flowers, the family requests that memorial contributions be sent to the Wolfe Street Foundation. Or, print a McKelvey Family Vacation t-shirt for yourself and spend some time in the Colorado mountains.
Arrangements by Smith Little Rock Funeral Home, (501)224-2200. David's online guestbook may be signed at www.smithfamilycares.com.
Published August 30, 2020
OBITUARY SUBMITTED BY:
Smith Little Rock Funeral Home
8801 Knoedl Ct., Little Rock, AR
E-mail: littlerock@smithfamilycares.com
Phone: 501-224-2200