Wayne Felix Charton
Morrilton, AR, 1923 - 2020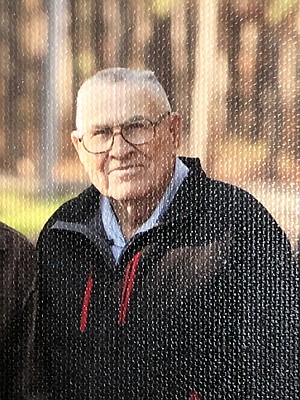 Wayne Felix Charton, 97, of Morrilton, Ark., passed away Sunday, December 27, 2020. The ninth child of Augustus and Lilly Alexander Charton was born at the Overcup Community on October 15, 1923. He started school at Center Valley. He later attended school at Hillcreek, Springfield and Morrilton. He started to work at an early age cutting firewood and selling it during the winter and picking fruit in California during the summer months. He attended machinist school at Morrilton. He later went to Bridgeport, Connecticut in the fall of 1942 and worked as a machinist there. On December 7, 1942 he volunteered to serve in the United States Navy receiving his basic training at San Diego, Calif. He sailed from San Francisco, Calif., making stops at Australia, India, South Africa, Brazil and Cuba. He came home on leave and married Irene Wilson on April 11, 1944. He then sailed from Jacksonville, Fla., and during the invasion of France made shuttle trips from the eastern coast of the United States to France and England. He was stationed at Camp Sheldon, Virginia for a few months before his discharge from the Navy as a Gunners mate on November 2, 1945.
He returned home and farmed the land he bought while in the service. He attended agriculture school under the GI bill. He later was engaged in grade A dairy farming from 1953 to 1965.
Wayne was preceded in death by his wife Irene. He is survived by three children; Lavonna Gregory (late David Gregory), Patricia Rainey (Ronnie) and Rick Charton (Marcia). Wayne and Irene have eight grandchildren; Jason Charton (Heather), Jill Rainey Humphreys (Greg), James Gregory (Kelli), Janet Rainey Carner (Brad), Robert Gregory, Justin Charton (Shelley), Rusty Gregory (Julie), Jennifer Rainey Berry (Jeff) and 13 great-grandchildren. The immediate family is having a private graveside service. Arrangements are by Harris Funeral Home of Morrilton. Pallbearers: His son, Rick Charton, son in law Ronnie Rainey, Grandsons: Jason Charton (honorary, Brisbane, Australia), Justin Charton, James Gregory, Robert Gregory (honorary), Rusty Gregory, Greg Humphreys ( honorary, El Dorado) Brad Carner and Jeff Berry. Online guestbook: www.harrisfuneralhomes.net.
Published December 28, 2020
OBITUARY SUBMITTED BY:
Harris Funeral Home, Inc.
118 South Moose Street, P.O. Box 439, Morrilton, AR
Phone: 501-354-4575
http://www.harrisfuneralhomes.net/