Forrest L. Wood
Flippin, AR, 1932 - 2020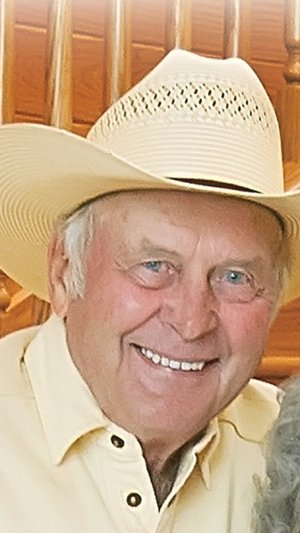 Surrounded by his loving family, Forrest L. Wood, 87, of Flippin, Arkansas, passed peacefully into eternity on January 25, 2020. Forrest was born on June 9, 1932, in Flippin, Arkansas, to Ervin C. Wood and Beulah Mahan Wood. He had one younger brother, Mickey. Forrest grew up working on the family farm.
Forrest graduated from Flippin High School in 1950 and married his high school classmate and sweetheart, Nina Kirkland, on April 21, 1951. They began their lives together as cattle ranchers in Flippin. Forrest also worked on the construction of Bull Shoals Dam, started a construction company of his own as well as a local guide and float trip business.
Forrest and Nina enjoyed nearly 69 wonderful years together with an extraordinary bond and love for one another. They were blessed with four daughters, 11 grandchildren, and 25 great-grandchildren. Few things brought Forrest greater joy than a family gathering. He and Nina were also avid sports fans and could often be found at the grandkids' and great-grandkids' ballgames.
Forrest will be remembered as the Father of the Modern Bass Boat and as a devoted pioneer in the fishing industry. In 1968, he, along with his wife Nina, founded Ranger® Boats and most recently played a vital role in the foundation of Vexus® Boats. In addition to being a successful entrepreneur, he was also a formidable angler in his own right, qualifying for the world championship Bassmaster Classic® in 1972 and 1979. He was the namesake behind the FLW Tour tournament trail and has been inducted into numerous, renowned Halls of Fame including the Arkansas Business Hall of Fame in 2006 and the Arkansas Sports Hall of Fame in 2011. Forrest was devoted to his home state and served for several years as an Arkansas Game & Fish Commissioner and is widely recognized for his conservation work. He was honored to have the Forrest L. Wood Crowley's Ridge Nature Center in Jonesboro named after him. He was presented with the Lifetime Achievement Award from the Sportfishing Association of America as well as the BASS Federation's Lifetime Achievement Award and the Arkansas Outdoor Hall of Fame Legacy Award.
Known for his signature cowboy hat, Forrest could instantly light up a room with his warm, genuine smile and charismatic personality. He was a man of true integrity who always made time for people. He was hardworking, gentle and humble. He had a heart of gold and a quick wit that everyone enjoyed. He was eager to learn from others and always listened with interest. He saw potential in every person he met and was always supportive and encouraging. Above all, Forrest was a godly man who had accepted Christ as his Lord and Savior. He was a long-time, faithful member of First Baptist Church in Flippin.
He is survived by his wife Nina; four daughters, Brenda (Randy) Hopper, Linda Wood, Rhonda (Kirk) Layton and Donna (Gregg) Alexander; 11 grandchildren, Keith (Lisa) Daffron, Jamie (Lane) Garner, Kevin (Heather) Daffron, Kyle (Alisha) Benedict, Kallie (Jason) Copeland, Bryan (Andrea) Benedict, Micaela (Mario) Thomas, Zach Alexander, Torie (Justin) Trammell, Lindsay (Blake) Marotti and Ethan Layton; 25 great-grandchildren; sister-in-law, Barbara Wood; niece, Shelli (Sam Jones IV) Wood and nephew, Brandon (Jessica) Wood. Forrest was preceded in death by his aforementioned parents and brother.
Funeral services will be held at Flippin First Baptist Church at 12 noon on Wednesday, January 29, 2020. Following the service and private burial, the family would like to invite all friends to the First Baptist Church Family Life Center for a visitation. In lieu of flowers, contributions may be made to St. Jude Children's Research Hospital or Flippin Cemetery. Arrangements are by Roller-Burns Funeral Home, Yellville. Memories of Forrest and words of comfort for his family may be shared at www.rollerfuneralhomes.com/yellville.
Published January 28, 2020
OBITUARY SUBMITTED BY:
Burns Funeral Home
725 North Panther Avenue, P.O. Box 525, Yellville, AR
Phone: 870-449-6621