Jennie Cathleen Rowland Patrick
Fayetteville, AR, 1935 - 2020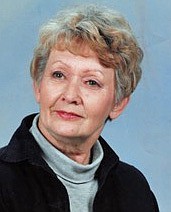 Jennie Cathleen Rowland Patrick, passed away June 25, 2020 at the age of 85. She was born February 13, 1935, in Oklahoma City, Okla., to Gustave and Dorothy Mae Lewis Rowland, but lived the majority of her life in Northwest Arkansas.
She attended both Greenland and Fayetteville schools, graduating from Fayetteville High in 1952. She was married to Carl Kenneth Patrick of Baldwin, Ark., on July 31, 1954, at Berry Street Baptist Church in Springdale, Ark.
In her life she worked for the Washington County court system, Happy Hollow Elementary, Mount Sequoyah United Methodist Retreat Center and Sequoyah United Methodist Church (but always her greatest career was her family).
She was a mother to four boys, a passionate gardener, an accomplished cook, a talented artist and a lover of classical & 40s era big band music.
She is preceded in death by her husband of 60 years, Carl Kenneth Patrick and two sons, Miles Lynn of Farmington Ark., and Carl Scott Patrick of Crosses, Ark.
She is survived by her sister, Dorothy Cox of Fort Worth, Texas; two sons, Kenneth Micheal Patrick of Anderson, Mo., and Andrew Joseph Patrick of Fayetteville; eight grandchildren; and 13 great-grandchildren.
Visitation will be on Monday, June 29, 2020 at Beard's Funeral Chapel in Fayetteville, Ark., from 5-7 p.m.
Funeral services will take place at 10 a.m., Tuesday, June 30, 2020 Beard's Funeral Chapel.
Interment to take place at Hester Cemetery in Baldwin, Ark., immediately following the service.
Due to COVID-19, please follow precautionary guidelines while attending these functions.
Condolences at www.beardsfuneralchapel.com.
Published June 28, 2020
OBITUARY SUBMITTED BY:
Beards Funeral Chapel
855 S. Happy Hollow Road, Fayetteville, AR
Phone: 479-521-8551
http://www.beardsfuneralchapel.com