Ronald Raymond Smith
Bella Vista , AR, 1934 - 2020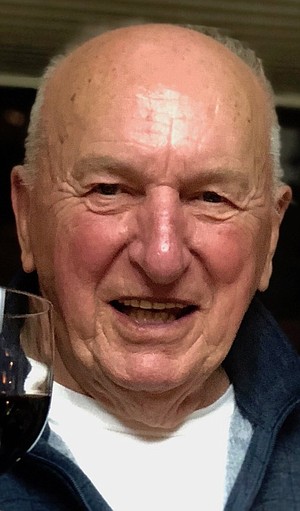 It is said: "Time well spent leads to life well lived." Ron Smith found peace on June 20th, 2020 at the age of 86 having spent his life doing the things he loved, surrounded by all the people he loved even more.
Ronald Raymond Smith was born on January 3, 1934 in Milwaukee, Wisconsin to parents Raymond and Ruth Smith. He looked fondly back on his childhood. Then, before going into the army during the Korean War, he met Mary Karoline Moravec, a striking young woman with a great sense of humor and a love of life. They exchanged letters during his time in the service, and he came back and married her. Together, they raised five children in Menomonee Falls, Wis., documenting their family's development with cherished photos, and spent many summers at their cottage at Pigeon Lake in Drummond, Wis. The couple always made time for fun: playing in bowling leagues, dancing, Friday pizzas and fish fries, and settling into most evenings with a "cocktail hour," usually on the deck.
After serving his community for 32 years as lieutenant detective for the Wauwatosa Police Department, Ron retired at 55 on the dot and was able to spend another 31 years enjoying his time golfing, fishing, playing cards, chess, and attending musical events. Ron especially liked games of all sorts and often said, with a twinkle in his eye, "What are we playing for?" (which meant, let's put a little money on the line to make it interesting).
As the adventurous Dad and Grandpa, Ron often took his kids, grandkids, and great-grandkids fishing on the lake, and he loved to tell jokes around the campfire. He introduced his family to other aspects of fun life had to offer, like camping, ping pong, pool, canoeing, skiing, mini-bikes, pets, chess, cards & games/sports of all sorts, music and lessons and on … from his family's perspective, an idyllic childhood.
Not everything in Ron's life was easy. Early in his retirement, he lost his wife Mary to ovarian cancer and just recently his first-born daughter Laura (Jerry) Grosenick to the same disease. But Ron had built a foundation of a loving family, and together they have always found a way through.
The memories of good times are too countless to mention, and he will be greatly missed. But to have lived a life so full is an accomplishment that he must have been proud of. And his family is proud to have had him in their lives.
Ronald Smith is survived by his daughters Susan (Jim) Pagel and Valerie Unger, his sons Kurt (Kim) Smith and John (Sheri) Smith. He is also survived by his grandchildren, who lovingly referred to him as "Gramps": Kelly Johnson, Gayle (Mike) Matt, Ciana Larson, Joe (Suzie Himley) Unger, Kayla (Matt) Olson, Taylor (Brian) Dassow, Nathan Smith, Jackson Pagel, Aidan Smith, and Sarah Smith. His great-grandchildren include: Kaydan & Ella Johnson; Dyllan and Madyson Drogier; Carter, Logan and Cali Larson; Peyton Himley and Vivienne Unger; Oliver, Eloise and Milo Olson.
The family has special thanks to his many friends (extended family; brothers and sisters-in-law; work partners; card, fishing, golf and bridge friends) for making his life so joyful.
Later in life, Ron found companionship and love with Nancy Hammer (who he also lost to cancer) and Jo Bain. Both are cherished by the family and wonderful women, and the family is so appreciative for making their Dad so happy.
Though grieving, Ron's family celebrates a life well-lived with a toast and a smile and a reminder to make the most of every day.
In lieu of flowers, please provide a donation to The American Cancer Society, 5434 W. Walsh Lane #100 Rogers, Ark. 72758.
Arrangements are by Bella Vista Funeral Home & Crematory, 2258 Forest Hills Blvd., Bella Vista, Arkansas. Condolences may be expressed at www.funeralmation.com.
Published June 30, 2020