Theoda Harrell Griffith
Conway , AR, 1927 - 2020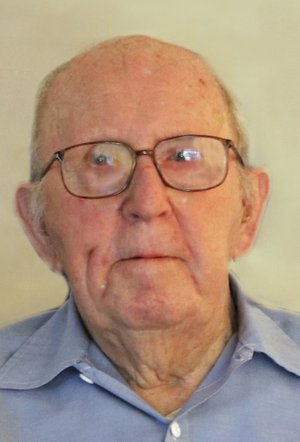 Theoda Harrell Griffith of Conway, Arkansas passed away on March 4, 2020 after reaching the age of 93 years old. After months of failing health he died peacefully with his beloved wife, Myra and his daughter Ellen by his side. Theoda was born on January 29, 1927 in Guy, Arkansas to Hiram and Zora Sparkman Griffith.
Theoda had so many connections to so many people. He lived his life to the fullest, making people laugh and showing people Jesus. Theoda never had an empty house or an empty dinner table. In all ways, he was a husband, a father, a son, a granddad, great granddad, an uncle, a cousin, a friend, a teacher, a high school principal, a mentor, a leader, an Elder, a Deacon, a sailor and health coordinator, but mostly and vigilantly a servant of God. He served as an Elder at different congregations including University Church of Christ, Robinson Center, and Decatur Church in Atlanta and Meadowbrook Church in Jackson, Miss.
Theoda enlisted in the Navy on January 26, 1945 and actively served as a pharmacist mate third class until August 23, 1946. He then went on to serve as a member of the Navy Reserves for 20 years and eventually retired as a second lieutenant. He served with the US Public Health Service in numerous assignments and retired with 35 years of service.
He is survived by his loving wife of 70 years, Myra; children, Marsha Chandler (Rick) of N. Richland Hills, Texas, Ellen Brothers of Hartwell, Ga., Harold Griffith (Tulia) of Port St. Lucie, Fla. and Cindy Hicks (Mike) of Midland, Texas as well as 10 grandchildren and 14 great-grandchildren.
Thanks to the all healthcare workers for caring for Theoda. Also thanks to Jerry Paton and Mr and Mrs Forbush for bringing communion each week.
Visitation for friends and family will be Sunday, March 8 from 2-4 p.m. with the Funeral Service on Monday, March 9 at 10 a.m. both will be at the University Church of Christ, at 3155 Dave Ward Drive, Conway followed by Burial at Copperas Springs in Guy. Online Guestbook available at www.rollerfuneralhomes.com/conway.
Published March 7, 2020
OBITUARY SUBMITTED BY:
Roller-McNutt Funeral Home
801 8th Avenue, P.O. Box 249, Conway, AR
Phone: 501-327-7727
http://www.rollerfuneralhomes.com