William Bert (Bill) Lines
El Dorado, AR, 1929 - 2020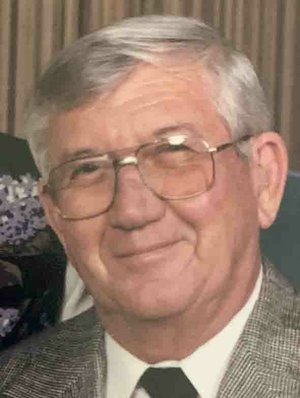 William Bert Lines (Bill) was born on July 30, 1929, in Stuttgart, Arkansas, to Robert I. and Gertrude Gaines Lines.
He graduated from Lewisville High School in 1947 where he also attained the level of Eagle Scout. He attended the University of Arkansas graduating in 1956 with a Masters of Science in Geology. He was a member of Lambda Chi Alpha fraternity.
In 1957, Bill moved to El Dorado and began his career with Alice-Sidney Oil Company working there until his retirement in 1997. He also established Bileta Corporation in 1997 and served as its president until his death.
Bill was a leader in both his professional and personal communities. In 1977, he was appointed by Governor David Pryor to serve on the Arkansas Oil and Gas Museum board. He served on the board of the El Dorado Golf and Country Club. He was President of the South Arkansas Razorback Club. He held professional memberships in the American Association of Petroleum Geologists and the Shreveport Geological Society. He served on the vestry of St. Mary's Episcopal Church. Bill was honored in 2005 as the Man of the Year by Epsilon Sigma Alpha Sorority for his longtime support of St. Jude Children's Research Hospital.
Preceding him in death are his wife of 33 years, Doris Oleta West Lines and three sons; John Futrell Lines, James D. (Jimmy) White, and Robert Clinton (Bobby) Lines. Bill is survived by three children; Lark White Tommey (Robert) of El Dorado, Connie White Lester (Monty) of Collierville, Tennessee, and Christopher Lines of Baltimore, Maryland. He leaves behind ten grandchildren; Sam Lines (Jenny), Ashley Unger Menendez (Chris), Justin Lines, Jennifer Tommey Zoellner, Adriana Unger Stacey (Heath), Lorrie White Ziegler (David), John Unger (Kelly), Rebekah Ankney (Mat), Craig Tommey (Carri), and Tyler Lester. Bill also leaves behind 20 beloved great-grandchildren.
A private graveside service with family will be held on Thursday, May 21st at Arlington Cemetery under the direction of Young's Funeral Home directors. Memorials may be made to St. Mary's Episcopal Church, 512 Champagnolle, El Dorado, Arkansas.
Bill loved duck hunting and playing golf with his grandsons and friends. But his abiding passion was cheering on his Arkansas Razorbacks by calling those Hogs! A true man of faith, Bill was a saint in the flesh, and our family was his mission. He never let a day go by without letting us know how much he loved each of us, and for that we are eternally grateful. www.youngsfuneralhome.com.
Published May 20, 2020
OBITUARY SUBMITTED BY:
Young's Funeral Directors
508 Champagnolle Road, El Dorado, AR
Phone: 870-863-7121
http://www.youngsfuneralhome.com