John W. Cooper, Jr.
North Little Rock, AR, 1925 - 2020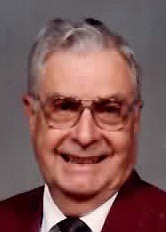 John William Cooper, Jr., age 95, of North Little Rock, Ark., passed away on Monday, November 16, 2020.
John was a loving, caring, and generous man who lived a wonderful life and was well loved. We will remember him for many things, his strong work ethic, devotion to his family, and service to others. His smile that lit up a room, his laugh, and his hugs will be sorely missed by his family and friends. John was a dedicated son, husband, father, grandfather, great-grandfather, neighbor, and friend. He dedicated many years of his life in service to his faith and membership in Baring Cross Baptist Church, as deacon, church treasurer, and volunteer kitchen staff. A World War II veteran, he served with honor in the Navy on the USS Boston in the South Pacific and was in Tokyo Bay for the signing of the Japanese surrender. John retired from Union Pacific Railroad after 42 years of service as an engineer. He also served as Chairman of the Board of the Union Pacific Credit Union, was a 33rd degree Mason, and active member of the Scottish Rite where he was president of the dining room for many years.
John was born on October 28, 1925, to John William Cooper, Sr. and Nelda Thora Roberts Cooper in Mount Vernon, Ark. He was preceded in death by his parents and his wife of 65 years, Rachael "Sue" Lou Ann Merritt Cooper. John is survived by four children: Mike Cooper (Beth), Jerry Cooper (Miriam), Linda Hullett (Michael), and Elizabeth Cornish (Kyler); five grandchildren, Kristen Bagby (Tom), John Steele Cooper (Kelsey), Blakely Henson (Kevin), Meredith Cornish, and Alex Hullett; and three great-grandchildren, Owen, Brooks, and Allie.
Private graveside service will be Monday, November 23, 2020, at the Arkansas State Veteran's Cemetery in North Little Rock, a memorial service is planned for a later date. Arrangements by Roller-Owens Funeral Home, online guestbook is www.rollerfuneralhomes.com/owens. Memorials to Baring Cross Baptist Church, 3501 Baring Cross Rd., Sherwood, Ark., 72120.
Published November 20, 2020
OBITUARY SUBMITTED BY:
Roller-Owens
5509 JFK Blvd., North Little Rock, AR
E-mail: owens@rollerfuneralhomes.com
Phone: 501-791-7400