Barbara Shelton
England, AR, 1954 - 2020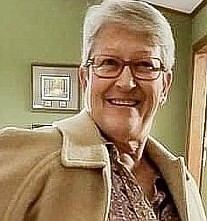 Barbara Shelton, 66, of England, Ark. passed away surrounded by loved ones on November 19, 2020. Barbara was born on June 25, 1954 to Raymond and Helene MacLeod in Yonkers, New York.
After graduating from First Colonial High in 1972, she went on to join the United States Army. After joining the Army, Barbara worked at the Pentagon in Washington, D.C., she attended linguistic school in California and also traveled all over Europe.
In 1975, Barbara married the love of her life, Rodger Dale Shelton. Barbara and Rodger had their first child, Melanie in 1983 and the two had twins, Laura and Christopher in 1989.
Barbara went on to become a police officer, detective and eventually a bail bondsman. She has always been a proud American and Army veteran. She was also ready to salute the flag and stand up for what she believed in at a moment's notice, and she rarely backed down. Barbara dedicated her life to being a fantastic and wonderful mother and Nana. Barbara excelled at supporting her children and granddaughter in any and all endeavors they chose.
Barbara was passionate about working in her yard and when she wasn't filling her home with warmth and kindness, she could be found taking care of her fur babies and making Sonic drink runs! We will miss her greatly.
Barbara was predeceased by her father, mother & husband. She is survived by her three children Melanie (John Martin), Christopher Shelton, and Laura Shelton and a brother, John MacLeod. She is also survived by her one and only granddaughter, Emmerson whom she loved to "Infinity and beyond!"
Services are being handled by Roller England Funeral Home (501) 842-3939. The services will be Tuesday, November 24, 2020 at 2 p.m. at the First United Methodist Church, England, Ark.
We are complying with the Arkansas Department of Health guidelines and limiting indoor funeral and visitation attendance to 50 people at one time. All attendees must provide and wear their own masks before entering.
Online guestbook: www.rollerfuneralhomes.com/england.
Published November 22, 2020
OBITUARY SUBMITTED BY:
Roller-England Funeral Home
202 Stuttgart Highway, P.O. Box 97, England, AR
Phone: 501-842-3939