Effie Allene Sneed
Maumelle, AR, 1926 - 2020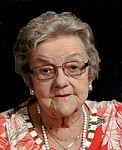 Effie Allene Holt Sneed, was born in McRae, Ark., on September 5, 1926. She passed away on Sunday, November 22. Her parents were Almous and Allie Holt. She had one brother, Kip Holt, and two sisters: Dollie Robison and Patsy Walker.
On a blind date, she met Farris Sneed and they began a life of true love and much fun together in 1948. They would live in Little Rock, Memphis, and eventually retire in Maumelle. All along the way because of her joyful approach to life, her friends became family and each of them was special to her. She had so many great memories to reflect on and often would say, "Haven't we all had a great life?". After graduating high school, she moved to Little Rock to pursue a career as a beautician that spanned almost 50 years. In Little Rock, one of her customers (Mrs. Culver) wrote a poem for her, calling her "the angel who fixed spirits and hair". In Memphis, some of her younger customers invited her to join them for a girls' trip to the Bahamas.
She cherished her kids, daughters, Debbie Sneed and Karen "Kay" Smith, and her son-in-law, Dale Smith. She was always a "fun mom" and brought her joyful zest for life to every situation, every day. She hosted girl scouts, Young Life, UMY, horseback rides, sorority girls, fishing trips, campouts, and always was the star attraction. And she loved her dogs and her grand-dogs.
She delighted in her nieces and nephews, and especially enjoyed being around them and their kids and grandkids. She was very appreciative of the attention and visits they gave her. She was so grateful to continue to be invited to their special occasions or just receive a phone call for a nice chat. She bragged about them to anybody that would listen. She loved to travel, especially to Destin, since the 1960's, and toasted her 90th birthday at the beach. When the immediate family became small, she agreed to change traditions and visit Oaklawn's casino and have a bloody mary for birthdays and even Christmas Eve. But she always insisted that we make it back in time for church on Christmas Eve.
She also enjoyed having her hair done (thank you Stephen Nosal), a mani-pedi, and going out to eat – usually including a bloody mary. She was a member of First United Methodist Church in Maumelle, and held a special place in her heart for her "pew folks" each week. A member of the Ladies Book Club, she lovingly called this group "her girls." She was a voracious reader, that would rank books on the inside cover to pass along to others. Occasionally she would get so excited telling about a good book that she would give away the entire plot, followed by her infectious laugh which made it all okay.
We all were blessed by the special caregivers that we grew to love with all our hearts: Rosella Gilbert, Gloria Porter, and Karen Warner. You were the angels that kept her so happy to be in her own home. We appreciate the care and love she received from Dr. Jeff and Lori Carfagno and staff, Dr. Marianne Harrington and staff, and Dr. Ahmed Tarek Abdelal. You each made her feel special, by emphasizing the VISIT component in each and every doctor's visit and phone call. You all treated her and her family with such kindness. After moving to Good Shepherd Nursing and Rehabilitation in Little Rock, she embraced a new set of friends and caregivers that transitioned to a new extended family. While there she was able to share books, candy, treats, and bingo with them. She will be missed by many.
There will be a private graveside service. In her honor, please stay safe and hopefully one day soon hug your family and friends often. And, maybe at some point, toast her remarkable life with a bloody mary. Memorials may be made to First United Church in Maumelle. Please share your memories of Allene at www.rollerfuneralhomes.com/chenal
Published November 24, 2020
OBITUARY SUBMITTED BY:
Roller-Chenal Funeral Home
13801 Chenal Parkway, Little Rock
Phone: 501-224-8300
http://www.rollerfuneralhomes.com/chenal