Robert F. Helms
Gillham, AR, 1924 - 2020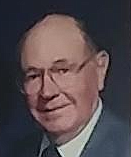 November 19, 2020, the Helms Family Patriarch, Robert F. Helms Sr. of Gillham realized his desire to be reunited with his bride of more than 77 years, Hazel.
Better known as "Bobby" he was 97 years old and lived a good and very active life. His often-stated greatest passion was his love for his wife. They were simply inseparable. When Hazel died in 2017, Bobby insisted there was no need for an elaborate service; he would be along shortly, and then it could be a grand affair.
Their love affair began at an early age. In fact, he was too young (age 15) to marry when they eloped to a justice of the peace. He "forged" his birthdate on the marriage license application to allow the ceremony to take place.
He and Hazel would spend the next 77+ years together raising five children and running a large-scale poultry and cattle farm. They were lifelong, active members of the King, DeQueen and Ashdown Churches of Christ.
Bobby and Hazel also were intrepid travelers. They managed to travel to all contiguous U.S. states and Alaska in their motor home. The Alaska journey was along the then all-mud and gravel Alaskan Highway--with Hazel at the wheel! They were members of the Good Sams Club and enjoyed camping and socializing with club members on nearby lakes. They also kept quarter horses which they loved like children.
In addition to the farm, Bobby loved gardening. He had a "green thumb" for plants and vegetables. He also loved fishing and swimming in the Cossatot River.
Bobby was preceded in death by his wife Hazel; a daughter, Sharon Inez Helms; and a son, Joe David Helms. Survivors include two sons, Robert Helms II of North Carolina and Don Helms of Sandpoint, Idaho; one daughter and son-in-law, Janice and Don Gilbert of Maumelle, Ark.; and a number of grandchildren and great-grandchildren.
Bobby will be cremated and interred with Hazel. The family is postponing the memorial service until sometime in the spring of 2021. Hopefully, by which time, everyone will be able to gather to celebrate the lives of this remarkable pair. Hazel and Bobby are now united in eternity.
Published November 24, 2020
OBITUARY SUBMITTED BY:
Wilkerson Funeral Home
403 W. Stilwell Ave, De Queen, AR
Phone: 870-642-2218
http://wilkersonfunerlahomes.com