Jerry Dwain Miller
Sheridan, AR, 1939 - 2020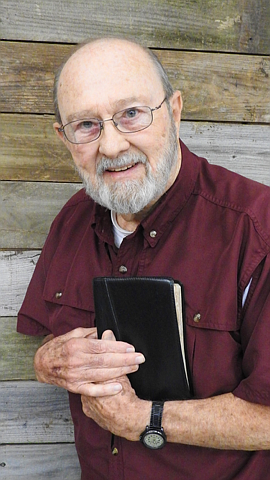 Jerry Dwain Miller affectionately referred to as "Bro. Miller", was born in West Point, Ark., April 8, 1939 to Junior and Faye Miller. He was promoted to heaven on October 9th, 2020. Not long after his birth, his parents and his blind paternal grandfather, Oscar Miller, with whom Jerry had a special bond, moved to the "Happy" Community between Kensett and Griffithville. They farmed strawberries, corn, and cotton. Jerry milked cows and sold the cream to purchase his school clothes. They attended the Pleasant Grove Missionary Baptist Church known affectionately as "Happy" where Jerry played piano. Jerry graduated from Griffithville High School in 1957 where he was All County, District, and State Basketball Player. Jerry was saved at age nine and baptized in the Little Red River at West Point, Ark. Jerry surrendered to preach in 1959 at age 20 in Junction City, Ark., at a youth rally. He pastored Baptist churches from Harrison, Ark., to Bossier City, LA and everywhere in between. His most beloved ministries were at Unity Baptist Church in DeWitt, Providence Baptist in Judsonia, Macedonia Baptist in Humnoke, and most especially the church he founded, Cornerstone Fellowship in East End, where he has served the past 23 years. Jerry Miller was most known as a preacher of preachers and one of the biggest soul winners of his generation. It's safe to say that from his pastorates to the hundreds of revivals he preached and the dozens of missions he started in Mexico, he is responsible for thousands of souls being reached with the Gospel of Jesus Christ. He wanted to be known as a Baptist Pastor who was faithful to the Lord's call, and he was exactly that for 61 years right up until his death. It should also be noted that he was an excellent sportsman who loved hunting and crappie fishing.
Jerry was preceded in death by his childhood sweetheart Mary Lou Holloway Miller to whom he was married to for 40 years, his parents Junior and Faye Miller, and his beloved grandfather Oscar Miller, along with other grandparents and family members.
He is survived by his loving devoted wife of 24 years Cheryl Patterson Miller, his three daughters: Deborah Kay Hardin and husband Randy of Grady, Ark., Vickie Carol Graham of Star City, Ark., Sherry Renee Williams and husband Richard of Springdale, Ark., one son Timothy Dwain Miller and wife Amy of Sheridan, Ark., two step-sons: John Bailey of Sheridan, Ark., and Jeff Bailey and wife Hannah of El Dorado, Ark., grandsons: Bart McKinzie, Jason Malnar, Jeremy Malnar, Brian Graham, Cody Graham, Hayden Cole, Christopher Hulsey, Manuel Hulsey, Benjamin Miller, Brandon Miller, and Charlie Davis, granddaughters: Tonya Amason, Amber Smith Bethanie Hale, and Kelsea McGee, 30 great-grandchildren, one sister Janice Bridges and husband Larry of Batesville, Ark., one brother Larry Miller, and wife Carma of Pleasant Plains, Ark., brother in law, Lloyd Holloway of Griffithville, sister-in-law Donna Lewis of Griffithville, and a host of current and former church members who were all like family to him. Pallbearers are Chris Hulsey, Ben Miller, Brandon Miller, Wesley Hale, Logan McKinzie, Cody Graham. Jerry was very close to the following men who serve as honorary pallbearers: Ray Whisenhunt, Jim Whisenhunt, Johnny Weatherford, Q. Byrum Hurst, L. J. Green, Dr. W. A. Dillard. Dr. Dwain Miller and Bro. Donald Lee Ruffin officiating.
Funeral services conducted by Garth Funeral Home in Des Arc, Ark.
Walk-through visitation will be held Tuesday, October 13, 2020 at 10 a.m., at Cornerstone Fellowship Church in East End. Funeral services will immediately follow in the parking lot of Cornerstone Fellowship at 11 a.m., Interment at Welcome Home Cemetery in Griffithville, Ark., at 3 p.m. In lieu of flowers donations may be made to Mexico Missions, %Cornerstone Fellowship Church, 210 Woodson Lateral Road, Hensley, Ark., 72065. www.garthfuneralhome.com.

Published October 12, 2020
OBITUARY SUBMITTED BY:
Garth Funeral Home
P. O> Box 308, Des Arc, AR
Find it at: 211 Main Street
E-mail: jimgarth@truevalue.net
Phone: 870-256-4676
http://www.garthfuneralhome.com/