Beuna Ilene (Patterson) Martin
Conway, AR, 1936 - 2020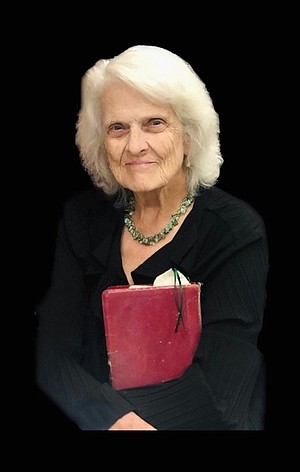 Beuna Ilene (Patterson) Martin, 84, beloved mother of Dr. David Martin and Jim Martin passed from this life on October 15, 2020. Beuna fought the good fight, finished her race, and is now in heaven living with Jesus her Savior. She has also been reunited with the love of her life, Gene. She was born on September 22, 1936, in Quitman, Ark.
Beuna loved her family with all her heart. She loved God and honored Him by being actively involved as a long-time member at Antioch Baptist Church. Beuna was an amazing cook and especially loved cooking Sunday lunch for the whole family. She was well known at church for her delicious roll recipe. Her ministry of loving and serving others was always through food.
When Beuna's children were young, the phrase "stay-at-home-mom" didn't exist. It was usual for women to stay home with the children while their husbands worked. But even by the standards of the era, Beuna was an exceptional wife and mother. She cared deeply for her family and neighbors. She did this not out of obligation, but because of who she was. She was always the first to offer help. She regularly brought meals to the home of sick neighbors and friends. Beuna loved children, and raised many of the neighbor's children and her great-grandchildren while their parents worked. She always ensured that every child she babysat was loved and treated like part of the family.
Those who will continue to celebrate her memory include her sons, Dr. David Martin (Lisa) and Jim Martin (Julie) and her grandchildren, Sarah Catherine Martin Davis, Preston Martin, Justin Martin, Michelle Martin Balentine, Luke Martin, and Rebekah Martin Williams and her 12 great-grandchildren.
She is preceded in death by her husband, Eugene Batson Martin; parents, Paul and Ola Patterson, and her brother, Raymond Patterson.
The family wishes to express their deepest gratitude to Ragenia Martin. Her unwavering care for Beuna in the last years of her life has been invaluable to our family.
Funeral service will be at 2p.m., Monday, October 19, 2020, at Antioch Baptist Church in Conway with visitation one hour prior, interment to follow at Bethlehem Cemetery in Shady Grove.
Pallbearers are her grandsons, Preston Martin, Justin Martin, Luke Martin, JonMark Wood, Jacob Wood, Dr. Steven Clark, and Christopher Clark.
Honorary pallbearers are Rex Loftin, Mark Wood, Mark Clark, and Gordon Findley.
Guestbook available at www.rollerfuneralhomes.com/conway.
Published October 18, 2020
OBITUARY SUBMITTED BY:
Roller-McNutt / Conway
8th and Vine, P.O. Box 249, Conway, AR
Phone: 501-374-2731