Dorothy Jean Johnson Sales
Jonesboro, AR, 1934 - 2020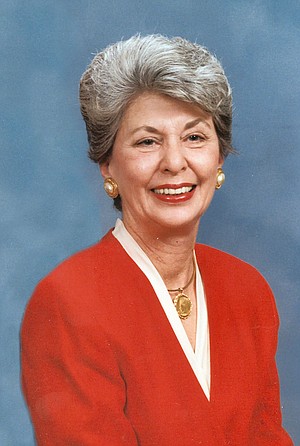 Dorothy Jean Johnson Sales, 86, of Jonesboro died on Thursday, October 15, 2020. She was born at the home of her maternal grandparents George David and Rosalie Brown Summers in Memphis, Tenn. Her parents were Charlie Hugh and Dorothy Imogene Summers Johnson. Her paternal grandparents were John David and Eva Lou Hudson Johnson of DeSoto County, Miss.
She is survived by her three sons and one daughter, Col. Millard Vance Sales, Jr. and wife Kim; Dr. Joseph Hugh Sales and Wife Dr. Elizabeth Sales; LTC David F. Sales and wife Stacy, and Dr. Summer-Lee Sales DeProw; brother Charles Hugh Johnson, Jr; She has four grandchildren: David Hunter Sales, Elizabeth Jean Cooper, Catherine Millard Sales, and Taylor Carlyle Sales.
Mrs. Sales attended Rhodes College and the University of Mississippi; she was a member of Chi Omega Sorority and was selected Miss Arkansas Congeniality in 1953. She had been an active member of the First United Methodist Church since 1960 having served on the Board of Trustees and longtime Chairman of the Worship Commission and Altar Guild. Mrs. Sales served as president of the Chapter BN of the P.E.O. Sisterhood, president of the 20th Century Club, President of the Arkansas State University Faculty Women's Association, Chaplain of the National Society of the Daughters of the American Revolution, Vice President and Program Chairman of the Confederacy, and a card carrying member of the American Civil Liberties Union.
She served as property manager for the Taylor-Fussell family of Forrest City, Ark., for 35 years.
She loved her husband, children, and grandchildren dearly. She was a strong supporter of Arkansas State University where her husband served as a professor and dean for 31 years and all of her children received undergraduate and graduate degrees. In lieu of flowers contributions may be made to the Arkansas State University Scholarship Foundation (Advancement Services), P.O. Box 1990, State University, Ark., 72467.
A graveside service will be held at 3 p.m., on Tuesday, October 20, 2020 at Jonesboro Memorial Park Cemetery with Rev. Jon Miles officiating and Emerson Funeral Home in charge of arrangements. The honorary pallbearers will be members of Chapter BN, P.E.O. Sisterhood.
Online guestbook: www.emersonfuneralhome.com.
Published October 18, 2020
OBITUARY SUBMITTED BY:
Emerson Funeral Home
1629 E. Nettleton, Jonesboro, AR
Phone: 870-935-4345