LeRoy Lynton Boas, Jr.
Pine bluff, AR, 1927 - 2020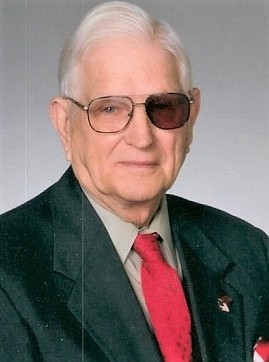 LeRoy L. Boas, Jr., 93, passed away on Sunday, October 18, 2020. He died peacefully, surrounded by his family and loved ones at his home in Pine Bluff, Ark. He was born July 14, 1927, in Sebastian County, the son of LeRoy Lynton Boas, Sr., and Beaulah Gamble Boas. LeRoy was born and raised in Fort Smith, Ark. His family were founding members of the First Lutheran Church in Fort Smith (est. 1853).
On Sundays, the Boas family could be faithfully found occupying their family pew. During the week, LeRoy, received his early education there at the First Lutheran Church, until the 8th grade, at which time he transferred to Fort Smith Northside, where he graduated high school. Upon graduation, he enlisted in the US Navy and was a Veteran of World War II. After the war, LeRoy, pursued his academic studies and enrolled at the University of Arkansas, in Fayetteville. Then, in pursuit of his love for music, he joined a jazz band playing bass and regularly performed at Fort Chaffee.
It was there at Fort Chaffee, that he met Carol Thomas, a bright, beautiful, accomplished young woman who was the secretary to the Commander. They married soon thereafter, relocated to Southeast Ark., and began building a life together. LeRoy was known throughout his family, community, church, and his workplaces for his impeccable work ethic, his honesty, integrity, his Christian faith, his sense of humor, and his love for life. He and his wife, Carol, raised their three daughters in Pine Bluff. They attended First Baptist Church, and were lifelong faithful members. LeRoy, was a Sunday School teacher, and department ministry leader. He sang in the choir, and strongly supported the music ministry of First Baptist. He was a lifetime deacon, in recognition of his long service and faithfulness.
LeRoy, was vocal in his community and church support for the youth. Whether it was serving during Vacation Bible School, driving buses for parades, hosting coffee houses so teenagers had a place to go on weekends for Christian fellowship, LeRoy, served with a humble and joyful spirit. LeRoy and Carol chaperoned trips to music camp at Ouachita University, as well as youth camps in Bogg Springs, Panama City, Glorietta, N.M., and Ridgecrest, N.C. He participated in a Layman's Religious Crusade, spearheaded by the Southern Baptist Convention, in the Summer of 1964, which took him and his family to Escondido, Calif., for a week of services.
He loved his home church, but he also valued supporting the ministries of others, such as Billy Graham, First Baptist Church of Dallas, and Pathway to Victory, Dr. David Jeremiah, and Dr. Charles Stanley. LeRoy and Carol, were considered "honorary members" of the Criswell Sunday School Class, at First Dallas, where they shared many wonderful hours of fellowship.
LeRoy, was a founding member of the InterCity Kiwanis program. He served as President at the local level and held leadership positions at the state and national levels. He was a member of ToastMasters International, and was recognized for his leadership and speaking skills. He was a strong advocate of the Special Olympics organization and was seen until recent years at their activities.
LeRoy, began his career at the Pine Bluff Arsenal, in September, 1953. He started out as a mailroom clerk and retired in 1993, as the second Civilian in Command. In his position as Director of Plans, Training, Mobilization, and Surety, he developed and implemented safety for nuclear agents and of their disposal. He received numerous commendations and awards, from the Department of the Army. During this time, he also served a pivotal role for the City of Pine Bluff, as a member of the Civil Service Commission. At the time, he was the only one to serve as Commissioner, two consecutive terms in the 1970s.
In the 1980s, LeRoy, was once again called to serve his city. During this time, he and Carol, together served over 20 years in the Arkansas Legislature Special Sessions, from 1994 to 2014. Governor Mike Huckabee, who served as Arkansas' 44th Governor from 1996 to 2007, remembered LeRoy, as a friend and wonderful man. "I first knew LeRoy, from my time living in Pine Bluff, during the 1980s," Governor Mike Huckabee said.
"I worked with him and his wife on many community activities and later with them at the Capitol. He was a great public servant who lived his Christian faith in kindness to others. My deepest condolences are with his family during this time. LeRoy, was a good man!" Huckabee said.
During LeRoy's time at the Arkansas State Legislature, he worked in the Senate, and served as Sergeant at Arms for the east wing. Bill Lancaster, then Chief of Staff to Governor Mike Beebe, said LeRoy was one of the most gifted men he ever knew.
"As Chief of Staff of the Arkansas Senate, the Sergeants at Arms worked under me. After one year as one of the eight sergeants, I moved LeRoy, to one of the key locations and this was in the east wing of the Senate. This was the busiest location because it is where the mail is sorted and it was where my office was located," Bill recalled. "LeRoy never buckled under the load and he did it all with his always pleasant smile. I had known LeRoy, from years earlier when I was with the Arkansas Gazette, and he had his position at the Arsenal. He was one of the smartest, generous, and gifted men I ever knew. I will miss his great laugh," Bill said.
A memorial service for LeRoy, will be held Saturday morning at 11 at the First Baptist Church, in Pine Bluff. Pastor Ken Thorton will preside over the service.
LeRoy, is survived by his beloved wife, Carol, of 71, years; his sister, Elizabeth Boas Mizell of Roseburg, Ore.; his three devoted daughters; DeAnne (Jimmy) Murphy of Hamburg, Susan (Jerry) Reid of Sheridan, Lynn (John) Hulette of Fayetteville, and bonus daughter, Ila (Louis) Campbell of Fayetteville.
LeRoy also leaves his joyful memories to be cherished by his grandchildren: Jim, Olivia, and Jon (Jenny) Murphy, Bart (Jamie) Reid, and Ginny Lauren (Tom) Dowden; his bonus grandchildren, Shepherd Campbell, Steadman (Tara) Campbell, and Caroline (Jerry) Faulkner, as well as his precious great-grandchildren (19).
The family wishes to extend their gratitude to Arkansas Hospice and to the wonderful caregivers for their support in his final days, and especially to their dear cousin, Angie Mitchell. Words will never adequately express our appreciation to you during this time.
Memorial contributions may be made to one of the following ministries: Pathway to Victory, In Touch Ministries, Samaritan's Purse, or Turning Point. Arrangements by Roselawn Funeral Service and Crematory, in Pine Bluff. Online guestbook at www.griffinfuneralservice.net.
Published October 22, 2020
OBITUARY SUBMITTED BY:
Griffin Funeral Services - Star City
811 North Lincoln Ave., Star City, AR
Find it at: Hwy 425
E-mail: griffinservices@centurytel.net
Phone: 870-628-4204
http://www.griffinfuneralservice.net/