Nonie Santos San Pedro
Little Rock, AR, 1928 - 2020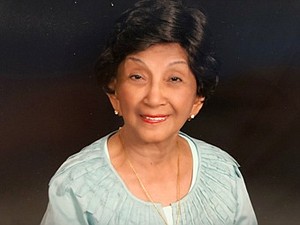 Exaltacion ("Nonie") Santos San Pedro, age 92, passed away on Monday, 19 October 2020. She was born on 14 September, 1928, (though she would later claim 1938 … or even 1948 …) in Victoria, the province of Tarlac, the Philippines, to Major Valentin Santos and Godofreda Ynigo Santos. She related exciting times during her childhood in World War II working with her sisters as a messenger to Japanese occupying forces, but all the while secretly aiding American POWs and Filipino guerilla resistance fighters. After the war, she graduated from the Far Eastern University with a Bachelor's degree in Accounting. She began working at Republic Bank where she met a dashing young manager, Crispin San Pedro. A whirlwind romance resulted in their union on 3 March, 1957 with elegant nuptials celebrated in Our Lady of Sorrows Church, Harrison, Pasay City, Manila, Philippines. They both continued their careers with Republic Bank, rising to senior management positions, all the while Nonie was raising their children: Gerardo ("Gerry"), Mimi, and Naomi. In 1972, Nonie took a leap of faith, leaving her career and young family behind to immigrate to the United States. With her signature grit, determination, and hard work, she was able to eventually reunite the family in 1974, settling down in Little Rock with the generous support of her sister, Helen and her family. Cris & Nonie utilized their banking expertise to forge new careers, initially with Worthen Bank, and finally as Accounting Supervisors for the State of Arkansas. Nonie's entrepreneurial spirit led her to multiple endeavors, including establishing the first Filipino food truck. Her recipes introduced Little Rock to Filipino cuisine, now a real presence in the Central Arkansas food scene. She remained a pillar of the loving and supportive local Filipino community. She spent her final years in the tender care of Avenir Memory Care.
Nonie was a devout and proud Catholic, making certain to instill her faith in every aspect of her life. She was a long-time parishioner of Our Lady of Good Counsel Church, and of Our Lady of the Holy Souls Church. She emphasized education for herself and her children, and continued that emphasis to all her grandchildren. She enjoyed celebrations and festivities, welcoming everyone as a cheerful and generous host. She continued to stress her Filipino heritage, highlighting traditions and delicious foodstuffs. Her love of inquiry and adventure manifested as a lifetime traveler, instilling that same passion for travel to her children.
Nonie was known for her depth of feelings and passions for the things she considered important. Even many years later, former colleagues and co-workers spoke about her dedication to her work and the quality of that work – woe to the recipient of her withering criticisms of what she considered shoddy material or output unworthy of her efforts. That extended not only to her professional product, but also to her food, her children's school work, or even daily purchases. But as contemptuous and caustic as that disapproval may be, her celebratory praise and compliments for good works, good grades, and good products were equally lavish and unstinting.
Nonie is preceded in death by her life partner, Crispin Santa Cruz San Pedro; her parents, Major Valentin and Godofreda Ynigo Santos; her sisters, Nieves Santos Arayata, Dr. Helen Santos Schaefer, Priscilla Santos, and Flora Santos Santiago. She is survived by her sisters, Lourdes ("Dudy") Santos Werner and Robert Werner of Little Rock, Paulita ("Tita") Santos Ching and Priscilla II ("Elma") Roxas in the Philippines. She is also survived by her children and their spouses: Gerardo ("Gerry") & Margaret ("Peggy") San Pedro of Bossier City, La., Mimi San Pedro and Mary Ann Coleman of Little Rock, and Naomi Marie and Michael Crume of Little Rock. Her memories will remain fondly with her grandchildren, Jason San Pedro, Amy San Pedro, Austin San Pedro, Bethany San Pedro, Nathan San Pedro, Keaton Crume, and Alyssa Crume, as well as her nieces, nephews, and their children. A private Rosary and funeral Mass will be Friday, 23 October, at 3:30 p.m., at Our Lady of the Holy Souls Catholic Church, officiating will the Reverend Fr. Stephen Elser, Nonie's grand-nephew.
The San Pedro family wishes to express their sincerest gratitude and admiration to the nurses, staff, and caretakers at Avenir Memory Center. Your loving care and devotion to our mother and grandmother will be forever remembered. In lieu of cards and flowers, the family asks that donations be made to the San Pedro Scholarship Fund with the Arkansas Philippine Association, Inc., P.O. Box 23063, Little Rock, Ark., 72221-3063.
Arrangements are under the direction of Ruebel Funeral Home, RuebelFuneralHome.com
Published October 23, 2020
OBITUARY SUBMITTED BY:
Ruebel Funeral Home
6313 West Markham Street, Little Rock
Phone: 501-666-0123
http://www.ruebelfuneralhome.com