Laverna T. Mayer
Bentonville, AR, 1921 - 2020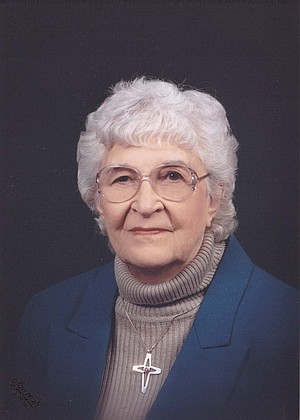 We remember Laverna "Tonny" Emily Dororthy (Tonn) Mayer, who received her eternal blessings this last Friday, October 23, 2020. Laverna was born to Albert and Elizabeth Tonn, in their farm home at Haven, Kan., on October 18, 1921. On November 13, 1921, she was brought into the family of God by her Trinitarian baptism at St. Paul Lutheran Church, in Haven, where she was also confirmed on Palm Sunday, April 14, 1935. She attended the St. Paul Lutheran Elementary School, and graduated from Haven High School, in 1939. Since her earliest years, she had developed a real love for music and mastered the piano. During high school Laverna played piano, and accompanied soloists, instrumentalists and the orchestra, as well as playing the saxophone, cello and viola. In 1941, she graduated from St. John's Lutheran College at Winfield, Kan., with a music and teaching degree. Following her graduation, she taught at Imanuel Lutheran School, Albuquerque, N.m., from 1941 to 1945. At the college in Winfield, she met Herman Mayer, whom she married at St. Paul Lutheran Church, Haven, on August 12, 1945. Upon his graduation from Concordia Seminary, St. Louis, Mo., in 1945, Laverna (Tonny) and Herman (Hub) after one year at missionary school in 1946, went to the Philippines, where they helped open the LCMS mission work immediately following World War II. During their 15 years in the Philippines, they founded 11 congregations there having spent five years in Luzon, and ten years in Mindanao. Laverna always helped with the music program, organ playing (with her portable army surplus organ), and children's Sunday school programs. During the Philippine years Laverna homeschooled her children and several other local American children. In 1961, they returned to the U.S.A. serving Trinity Lutheran Church, in Garden City, Kan., then founding Calvary Lutheran Church, in Topeka, Kan., in 1963, and finally founding Faith Lutheran Church, Bentonville, in 1976.
Upon their retirement in 1986, they continued to live in Bentonville, but spent many months each year helping in the ministry at St. John Lutheran Church, Lawton, Okla., where she also often played the organ for their church services. She is currently a member at Holy Trinity Lutheran Church, Rogers, Ark. Her hobby and love always was Lutheran liturgical music and hymnody; giving many seminars and talks on the subject over the years, as well as having trained many Lutheran church organists. For thirty-five years she has enjoyed playing her pipe organ in her underground home.
She was preceded in death by her parents; her brother, Alfred Tonn; and her husband, of 63 years Rev. Herman Mayer in 2008. Survivors include her children, Rev. Richard and Alice Mayer, Bentonville, and children, Mark and Christine; Richard and Janet Einert, Topeka, Kan., and son, Daniel; James and Betty Mayer, Bentonville, and children, Timothy, David, Susan, Sarah, and Margaret; Kenneth and Patty Mayer, Omaha, Neb., and children, Jonathan, Johanna, Joshua, Elisa, and Ruth; Don and Mary Mayer, Bentonville, and children, Paul, Drew, and Kati; and Mike and Dorothy Button, Bentonville, and children, Shelby and Jake; 23 great-grandchildren, five great- great-grandchildren, and numerous nephews and nieces.
Funeral services will be Saturday, October 31, 2020, at 1 p.m., at the St. Paul Lutheran Church, with burial to follow in the cemetery in Haven, Kan. Arrangements under the care of Rollins Funeral Home, www.rollinsfuneral.com.
Published October 24, 2020
OBITUARY SUBMITTED BY:
Rollins Funeral Home
1401 W. Hudson Rd, Rogers, AR
Phone: 479-631-6617