Louise Atkinson Isgrig
Little Rock , AR, 1924 - 2020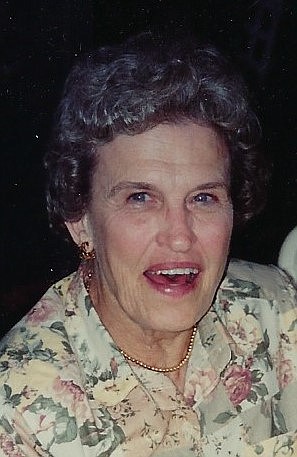 "Yoo-hoo!" she'd call as she walked through just about any front door. Doing so was more than announcing her presence; it was a whimsical greeting that gave hint to her girlish humor and her love of a good time. Louise Atkinson Isgrig departed this life on October 24, 2020, after spending 96, years enjoying every minute of it. Born on July 16, 1924, in Little Rock, she was preceded in death by her husband, Ben Charles Isgrig, Jr., her parents, Louise Kavanaugh Atkinson, and John Hampton Atkinson, her granddaughter, Abigail Cook McQueen, her brother, Bill Atkinson of Pine Bluff, and beloved aunt, Kathleen K. Hall. Louise had smiling eyes and one of those personalities that collected a lot of nicknames. Because she found every which way to tag along with her older brother whether he wanted her to or not, he called her "Bug," and it stuck. When she had grand kids, she became "Bobo." Names were important to Louise and she made sure to pass them along through generations. Her grandfather, Williams Marmaduke Kavanaugh, served as Pulaski County judge, and United States Senator, and is for whom Kavanaugh Boulevard, is named. Her grandmother, Ada Louise Floyd Kavanaugh, descendent of William Floyd, a signer of the Declaration of Independence, did even more. Ada Louise, gave her name to a woman who would leave her mark on the hearts of her family, a name that would be carried on through time. Louise enjoyed her nicknames but took pride in her family name even more.
After soaking in life at Little Rock (Central) High School, where she was a cheerleader, and homecoming queen, she graduated in 1940, and headed for the University of Arkansas, where more cheer leading awaited her. She had a great time in the Chi Omega house and was a Sigma Chi sweetheart. No one ever out-danced her. When her boyfriend was shot down in World War II, and lived in the French Underground for three months, she held fast to the hope he'd be safe. That boyfriend, Ben Isgrig, evaded German patrols, Vichy France, and made it back to those smiling eyes he loved so much. They married upon his return. Louise and Ben founded the Isgrig and Company Wholesale Florists, and were active in the Wholesale Florist Association, for more than thirty years. She raised a family during that time and is survived by all of them: Charles (Tracie) Isgrig, of Pine Bluff, Kathleen (Harry) McQueen, and Ann (Otis) Schiller, both of Little Rock. She reveled in her seven grandchildren: Daniel (Alison) McQueen, Jennifer Gardner, Dawn (Rich) Grover, Ben (Stacy) Isgrig, Lisa (David) Breeding, Fred (Megan Carey) Schiller, and Ann Louise (Steve) Straessle. Louise entertained her 19 great-grandchildren to no end.
Louise squeezed every ounce out of her abundant energy serving on the boards of the Junior League of Little Rock, the Arthritis Foundation, the Ada Thompson House, and the Sampley Foundation of Mount Ida. She organized the first coffee hour at the VA Hospital, and volunteered with the American Red Cross. She worked a number of years in the UALR Alumni and Development Office, and was a member of the Episcopal Church. Louise and Ben spent many happy years at Lake Ouachita, where she out-fished everyone and entertained well after the fish had stopped biting. She enjoyed bridge several times a week and feasted on the world of travel with trips to Mexico, Alaska, and Europe, where she met the family that hid her red-headed-boyfriend-soon-to-be-husband during the war. No detail escaped her attention. She never stopped seeking the greater things in life and when her health began to give and she couldn't move around as much, she dove into her voracious reading habit. The family is so pleased to thank Presbyterian Village, Hospice Home Care, and Louise's dear end-of-life friend, George Howard, who helped her more than he'll ever know. The family will always remain deeply and profoundly grateful. In the past few years, Louise held court with new friends and old, and regaled her great-grandchildren, with stories of her eventful, fun-filled youth. We all miss her dearly. But, we know that whenever a front door is opened, we'll hear the faint whisper of a "yoo-hoo!" and we'll know. We'll know it's the echo of a life so full, a life so enjoyed, a life so loved.
Graveside services will be 2 p.m., Thursday, October 29, 2020, at Roselawn Memorial Park, with Reverend Dr. Kate Alexander officiating. Mrs. Isgrig will lie in state on Wednesday, October 28, 2020, from 8 a.m., until 5 p.m., at Smith Little Rock Funeral Home. Memorials may be made to Christ Episcopal Church, 509 Scott St., Little Rock, Ark., 72201, or to the Central Arkansas Library System, 100 Rock St., Little Rock, Ark., 72201.
Arrangements by Smith Little Rock Funeral Home, 8801 Knoedl Ct., Little Rock, Ark., 72205. (501) 224-2200. Sign Mrs. Isgrig's online guestbook at www.smithfamilycares.com
Published October 27, 2020
OBITUARY SUBMITTED BY:
Smith Little Rock Funeral Home
8801 Knoedl Ct., Little Rock
E-mail: littlerock@smithfamilycares.com
Phone: 501-224-2200