William Arthur "Bill" Whitmore
North Little Rock, AR, 1959 - 2021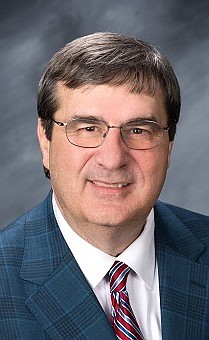 William Arthur "Bill" Whitmore, 61, of North Little Rock, Ark., passed away peacefully at his home on April 6, 2021, after a courageous battle with lymphoma.
Bill graduated from Catholic High School for Boys. He earned a Bachelor of Science Degree in Accounting from Ouachita Baptist University and is a graduate of the Southwestern Graduate School of Banking, Southern Methodist University.
Bill had a long and successful career in banking. He began his career as a state bank examiner with the Arkansas State Bank Department. After working his way up to a Senior Examiner, he began a career in commercial lending, which included time at FDH Bancshares, Inc., Boatman's, Eagle Bank & Trust, Twin City (now Centennial) Bank, Simmons First National Bank, and Arvest Bank. He ended his career by going back to the State Department.
Bill was an active supporter of his community by being a member, and often times sitting on the Board, of the North Little Rock Kiwanis Club, Argenta City Club, and North Little Rock Chamber of Commerce. He was a past-President of the Episcopal Collegiate School Parent's Auxiliary, a former member of the Catholic High Football chain crew, and was a life-long member of Park Hill Baptist Church working with the Youth Group and singing in the choir.
Bill enjoyed playing golf, duck hunting, attending sporting events, traveling, supporting his children at their activities, singing in his church choir, and spending time with his friends and family. Bill had such a servant's heart and was always committed to loving and helping people; never wanting recognition or praise for the work he did.
Bill was born on June 18, 1959, in Little Rock to the late Honorable Perry V. and Marjorie Corbell Whitmore. He is survived by his devoted wife of 33 years, Meredith (Perkins); and their children Allyse, of North Little Rock, and Tyler, of Dallas, Texas; his brothers Perry (Jo), and Mark, both of Little Rock; and a host of friends who loved him dearly. He was preceded in death by his parents, and his sister Jayne (Jan) Fulenwider, of Memphis, Tenn.
In lieu of flowers, donations may be made to the Park Hill Baptist Church Music Ministry, UAMS Rockefeller Cancer Institute, Catholic High School for Boys, or Ouachita Baptist University.
Visitation will be Wednesday, April 14, from 5-7 p.m. and funeral services will be Thursday at 10 a.m., with both events taking place at Park Hill Baptist Church, 201 East C Ave., North Little Rock. Burial will be at Rest Hills Cemetery in North Little Rock.
Published April 10, 2021