Martha Leslie Douglas
Atlanta, GA, 1922 - 2021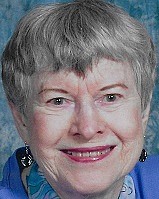 Pioneering journalist Martha Leslie Douglas, longtime reporter and columnist for the Arkansas Gazette, died July 29 in Atlanta. She was 98.
Douglas was hired to the Gazette in 1950 by editor Harry Ashmore as a general assignment reporter, one of only two women in the newsroom. In an era when women journalists were usually relegated to the society pages, her first assignment was a story on school integration developments in Arkansas County. That story turned into a regular assignment covering Arkansas schools. She also wrote about the federal courts and state and federal elections, including Senator John McClellan's 1954 re-election campaign.
In 1956, Douglas became the Gazette's television and radio columnist, a position she held until her retirement in September 1983. Her duties also included writing about education and religion for the Sunday edition.
Douglas attended college at Texas State College for Women (now Texas Woman's University) in Denton, Texas, where in September 1946, she became the first editor of a daily women's college newspaper in the United States, an accomplishment noted by President Harry Truman.
She began her journalism career at the Denton Record Chronicle, worked as a secretary at a department store in Cleveland, then returned to Arkansas to begin work at the Gazette.
Born November 28, 1922, in Warren, Ark., Douglas moved with her family as her father, a paper mill worker, searched for employment during the Depression. The family settled in DeWitt, Ark., where her father worked as a barber and her mother as a switchboard operator. She was valedictorian of DeWitt High School in 1940.
At the Gazette, she met Bob Douglas, whom she married in 1955. She moved to a desk job to focus on raising a family. Son Bruce was born in 1957, son Alan in 1959 and daughter Leslie in 1964.
After she retired from the Gazette, she moved to Fayetteville, Ark., to join her husband, who had left his position as Gazette managing editor, to become chairman of the University of Arkansas' journalism department. In Fayetteville, Martha and Bob Douglas were part of a vibrant circle of journalists, writers, professors, physicians and many others. She took full advantage of the university, auditing classes in political science, history, English, anthropology and astronomy. She volunteered with Friends of the Fayetteville Library and resumed a life-long interest in bridge.
Family remained a focus for her in Fayetteville, where she hosted children and grandchildren.
Three years after Bob Douglas' death in 2002, Martha moved to a retirement community in Atlanta, Ga., where Bruce and Leslie lived and all four grandchildren were born and raised. She was a devoted and active grandmother, with a love for competitive games, playing basketball with her youngest grandchildren well into her 80s. In the retirement community, she managed the community's library and organized a book club, several bridge groups, and what she sardonically referred to as a Democratic Party cell.
Although congestive heart failure sapped her physical strength, she remained mentally sharp until her death, wryly funny, pragmatic and never reluctant to express an opinion. Her spirit was bold and fierce throughout life, yet soft and gentle as she cared for family and friends.
Douglas is survived by sons Bruce and Alan; daughter, Leslie Douglas Bowler; grandchildren, Scott Douglas, Kelly Douglas Stone, Michael and Connor Bowler; great-granddaughter, Sybil Fintzi-Douglas; daughter-in-law, Leigh Douglas; son-in-law, John Bowler; extended family; and close friends in Arkansas, Georgia and beyond.
The family intends to inter her ashes at her husband's gravesite at the National Cemetery in Fayetteville, Ark. In lieu of flowers, the family suggests donations to the Walter J. Lemke Department of Journalism at the University of Arkansas. Make checks payable to the University of Arkansas Foundation, memo line "In memory of Martha Douglas." Mail to:
School of Journalism and Strategic Media
Office of Development and External Relations
1 University of Arkansas, 525 Old Main
Fayetteville, AR 72701
Also appreciated and appropriate: donating time, books or money to a local library.
Published August 3, 2021