Paul Alan Lucas
Camden, AR, 1961 - 2021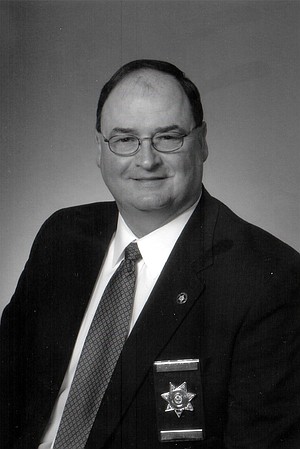 Paul Alan Lucas was born on August 23, 1961, at Ouachita County Medical Center in Camden, Ark., to Bobby Ted Lucas, Sr. and Margaret Hillman Lucas. He passed away at the age of 59 on February 12, 2021 at Ouachita County Medical Center. He graduated from Fairview High School in 1980. That same year, on August 1, he married Janet Benson Lucas, his life-time sweetheart. Paul started his career at Lucas Trucking, a family-owned business, in 1980 that his father had started years earlier. When Lucas Trucking was sold in 1989, Paul accepted the position of Chief Deputy of Ouachita County under Sheriff Ben Garner. Several years later, Paul continued his career as a public servant, faithfully serving in the capacity of Ouachita County Judge, as well as Ouachita County Sheriff. In 1994, Paul and Janet established Lucas and Sons Trucking, which was owned and operated by them until its sale in 2007.
In 2008, Paul accepted a position with the State of Arkansas, remaining in Little Rock for several years until his retirement from Arkansas Workers Compensation Commission in 2016. Paul was completely devoted to his family and desired to move back home to Camden upon his retirement. His wish came true and he was able to spend his last few years surrounded by the love and joy his family brought to him.
Paul was a life- long member of Cornerstone Church, formally known as Word Aflame United Pentecostal Church. Paul devoted his life to God, was extremely proud of his family, and loved his country. He was a charter member of Happy Hollow Hunting Club for over three decades, where many fond memories were made. He will be missed by all of those who had the privilege of knowing him.
Paul is preceded in death by his father, Bobby Ted Lucas, Sr., his mother, Margaret Hillman Lucas, his brother, Bobby Ted (Bear) Lucas, Jr., sister-in-law, Dee Ann Roberts Lucas, father-in-law Harlin Benson, brother-in-law, Tommy Morgan, and nephew, Brandon Marshall Kersh.
Paul is survived by the love of his life of 40 years, Janet Benson Lucas; his two sons, Joshua and wife Kimberly Lucas of Camden, and grand dog Sassy; Wesley and Holly Lucas of Camden, and his beloved granddaughters, Abigail & Madison Lucas. Paul is also survived by his sister, Deborah Ann Lucas Kersh and husband Bobby of Fayetteville, Ark., his mother-in-law, Juanita Butler Benson, two very special sister in laws Lanita Stinnett (Bill) and Harlene Morgan Vick (Richard), as well as a host of loving family, nephews, and nieces.
The family wishes to express their deepest gratitude for the excellent and compassionate care provided by the nurses, staff, and Dr. Eric Henriksen at the Ouachita County Medical Center.
Visitation will be 6-8 p.m., on Sunday, February 14, 2021, at Proctor Funeral Home. Funeral services will be officiated by Brother Michael Shelton and Brother Larry Stacy, 11 a.m., Monday, February 15, 2021 at Cornerstone Church, with entombment immediately following at Memorial Park Cemetery.
The family would like to extend its thanks to the staff at Proctor Funeral Home for its help and support during this very difficult time.
Published February 14, 2021
OBITUARY SUBMITTED BY:
Proctor Funeral Home, Inc.
P. O. Box P, Camden, AR
Find it at: Jefferson Street
E-mail: proctorfh@att.net
Phone: 870-836-2264
http://www.proctorfuneralhome.com/