Geraldine Ussery Copeland
of North Little Rock, AR, 1925 - 2021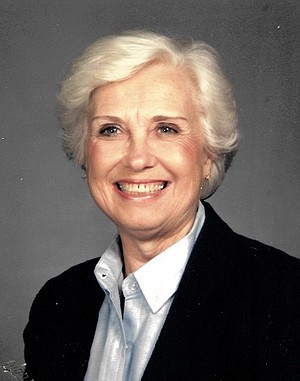 GERALDINE (USSERY) COPELAND, 95, of North Little Rock, Ark., passed away on January 7, 2021. She never met a stranger. She was born on July 17, 1925 and spent her childhood in Perry County, Ark., and in South Carolina. A child during the Great Depression, her father, Richard Marion Ussery, died when she was nine years old. She and her two younger brothers, Jack Ussery and Bill Hughes, were raised by their mother, Buena Vista Bailey (Tolley). They had a slew of cousins and extended family in Perry County with whom they played, and she always said that she never thought they might have been considered poor.
She married her first husband, V.C. Devan in 1945, he was in the Army and they were fortunate enough to live all over the world. They raised three children, living at times in Japan, Germany, Georgia, California, Kansas, Arkansas, Virginia, and New Jersey, before she moved "back home" to Arkansas in the mid 1970's. Her second husband, Richard Copeland, spoiled her rotten. They traveled all over the North America, Europe, Africa, Asia, and Australia. She loved telling and retelling the tales of her globe-trotting exploits.
She is preceded in death by her parents, Richard Ussery and Buena Bailey; her brother Bill Hughes, and her husband Richard Copeland.
Geraldine is survived by her brother Jack Ussery of Corpus Christi, Texas; her three children, Curt Devan (Karla) of Kirksville, Mo., Robert Devan (Robin) of Little Rock, Ark., and Joanne Nesto of St. Petersburg Beach, Fla.; 10 grandchildren Sarah Devan of Los Angeles, Calif., Rebecca Starr (Aaron) and Rachael Devan of Ankeny, Iowa, Emily Hoskinds (Justin) of Cushman, Ark., Nicole and Haley Nesto of Saint Petersburg, Fla., Cherise Gray of Cabot, Ark., Tammy Bennett (Kevin) of St. Augustine, Fla., Serena Ball (Billy) of Mayflower, Ark., and Sam Giles (Maddy) of Tacoma, Washington; nine great-grandchildren; one great-great-grandchild.; a host of extended family and friends, all over the country who remember her hospitality, her brownies, and her infectious smile and laughter.
Though her lively personality dimmed in her later years, she occasionally revealed a glimmer of her former vibrant self. She often said, through the fog of dementia, "I'm right here" and "Can I get you anything?" She was always social, always wanting to help others. She was a loyal friend and loved shopping, traveling, getting her hair done at Pearlie's, visiting her cousins in Perryville, and she always seemed to be preparing a dish to take to someone else.
She lived an eventful life, loved her friends and family. She laughed and smile more often than not. Though her memory failed her in the end, there are scores of people who will always remember Geraldine Copeland (July 17, 1925 – January 7, 2021).
Arrangements are entrusted to A Natural State Funeral Service, 2620 West Main Street, Jacksonville, Ark. Online guestbook available at www.anaturalstatefueneralservice.com.
Published January 10, 2021
OBITUARY SUBMITTED BY:
A Natural State Funeral Service
2620 West Main Street , Jacksonville, AR
E-mail: anaturalstatefuneralservice@gmail.com
Phone: 501-982-3400