Barbara Jean Riedmueller Nabholz
Conway, AR, 1936 - 2021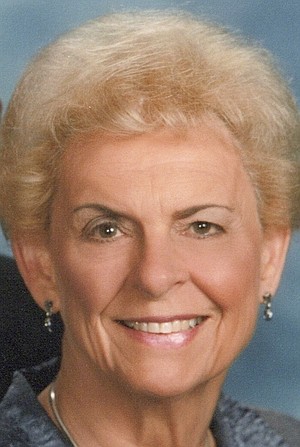 Barbara Jean Riedmueller Nabholz, October 18, 1936 – January 12, 2021. Born the first of six children of Teresa and George Riedmueller, Barbara Jean grew up working in her daddy's grocery store in Morrilton, Arkansas. She attended Sacred Heart High School and then St. Vincent Nursing School. She met the love of her life at a CYO dance at Sacred Heart Church, Thomas Julian Nabholz from Conway. They were married after Tom's return from the Army in 1956 and never looked back.
Barbara Jean also fell in love with the Conway community where she became very active. She and Tom were members of St. Joseph Catholic Church and School where they would raise and educate their four children. She was a founding Board member of Toad Suck Daze, a Board member of the Salvation Army Conway Senior Citizen Center, Friends of AETN, and a lifetime member of Conway Junior Auxiliary. She was President of Conway City Beautiful, a member of the Conway Chamber of Commerce, Conway High School Rodeo Association, and St. Joseph Christian Mothers. She was proud to be a member of the Lost Mountain Group.
She is welcomed to paradise by her parents, her husband of 64 wonderful years, and her brothers, George Riedmueller, Jr. and Jim Riedmueller, Sr. We can only imagine the celebration.
She left behind, for now, four children. Michelle Ellis (Henry) of Myrtle Beach, S.C., Marisa Nabholz of Bella Vista, Melinda Smith (Ed) currently of Conway, and Tommy Nabholz, Jr. (Beth) of Conway. She'll be missed by her six grandchildren, Dusty Pappas (Christian) of Conway, Harrison Hatfield of Denver, Caroline Hatfield of Detroit, and Sloane Nolan, Mac Nabholz, and Patrick Nabholz, all of Conway. She had two step-grandchildren for 23 years, Lauren Lawson (John) of Pine Bluff and Alex Smith (Rachel) of Little Rock. She loved her great grands, Kaitlyn Pappas and Lexie Pappas, and her three step-greats, Hallie and Ella Lawson, and Annie Smith.
Also celebrating her life are her siblings, Elaine Riedmueller Lynch of Fort Smith, Lori Riedmueller Beck (David) of St. Vincent, and Charles Riedmueller (Jan) of Bella Vista. And sisters-in-law, Marilyn Riedmueller and Claudia Riedmueller. And we dare not miss all her many, many nieces and nephews and their families. Just as much family were Ola McGee, Carolyn McCray, Stephanie Jones and Nasha Scott who not only cared for Barbara Jean like the rest of us but genuinely cared for her physically during her last years. And a special thanks to Arkansas Hospice as well.
Barbara loved the Razorbacks, tailgating, hosting parties for any reason, cooking, traveling the world with Tom, and simply enjoying life. She was truly the matriarch of her family, whom she was fully devoted to in every way.
The family is so comforted to know that Barbara Jean and Tom are once again reunited. They could never be apart, and now they never will again.
Published January 13, 2021
OBITUARY SUBMITTED BY:
Roller-McNutt / Conway
8th and Vine, P.O. Box 249, Conway, AR
Phone: 501-374-2731