Lois Jean Miles
Bella Vista, AR, 1941 - 2021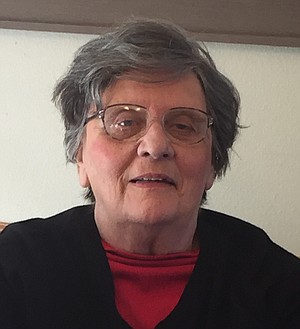 Lois Jean Miles, age 79, of Bella Vista, passed away on January 9, 2021, at a local skilled care center.
Lois was born September 2nd, 1941, in Iowa Falls, Iowa, the first born and only daughter of James and Vivian Amundson.
Lois was raised in Radcliffe, Iowa, and graduated from Radcliffe High School in 1959. She was very proud of growing up on the farm, and even though she physically left Radcliffe, she never really "left" there. Lois enjoyed telling and re-telling Family Farm stories of her father Jim, farming with horses, raising cattle, and mom Vivian baking wedding cakes. Lois was an avid bowler and bowled in women's leagues at Radcliffe Lanes for many years. Lois also played on the Friendly Fairways Women's golf leagues. Lois was very proud of her boys and all the sports they played. From the bleachers, she would keep statistics on 3x5 note cards for all of the players and often recollected special games and events.
On December 10th, 1960, Lois married Gerald Jean Miles at Our Saviors Lutheran church in Radcliffe, Iowa. They settled on the farm three miles south of Radcliffe and began farming with Lois's Dad. Lois played out the role of farm wife to perfection, helping Gerald feed hogs and raise corn and soybeans. When she wasn't on the tractor, she prepared meals for the family and loved to bake after school snacks for their four boys.
After 20 years on the farm, Lois led Gerald into the motel business. They managed motels in numerous locations of the United States. They would come to be known by the motel staff as "the best managers we ever worked for" as they simply knew how to treat people.
After moving to Bella Vista in 1993, Lois worked at the Benton County courthouse in deeds and mortgages until her retirement. She was quick to make a friend, and later on, even quickly making friends with those who cared for her.
Lois was preceded in death by her parents and beloved husband Gerald. Survivors include brothers, Ron, Lee, Jon and Jim; her sons, Robert (Jennifer) Miles of Bella Vista, Ark., Rick (Kim) Miles of Radcliffe, Iowa, Terry (Kim) Miles of Bella Vista, Ark.; and Steve (Lori) Miles of Quincy, Illinois; grandchildren, Oliver and Andrew of Bella Vista, Teisha of Plymouth, Iowa, and Seth of Radcliffe, Iowa, Carrie of Bella Vista, Madison of St. Louis, Mo., and Cain of Fort Polk, La.
A celebration of Lois's life will be held at a later date. At that time, she will join Gerald at the Fayetteville National Cemetery in Fayetteville, Ark. Arrangements: Epting Funeral Home of Northwest Arkansas
Condolences: www.eptingfuneralhome.webs.com
Published January 13, 2021
OBITUARY SUBMITTED BY:
Epting Funeral Home
709 N. Walton, Bentonville, AR
Find it at: corner of Walton and College
E-mail: eptingfuneralhome@inbox.com
Phone: 479-273-3443
http://www.eptingfuneralhome.webs.com/