Ben Eugene Smith
Fayetteville, AR, 1947 - 2021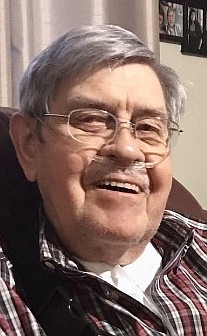 Ben Eugene Smith, age 74, of Fayetteville, Ark., passed away on Sunday, June 6, 2021, at Washington Regional Hospital in Fayetteville. Mr. Smith, son of Robert Henry and Ella May Smith, was born on March 12, 1947, in Park Hill, Okla. During his career, Ben worked for Harrison Davis Construction Company Inc. for nearly 30 years. Before then, he worked at Meeks Lumber and was also a franchise owner with Taco Hut.
Some of Ben's favorite pastimes were reading the Arkansas Democrat-Gazette every morning, talking about politics, and cheering on the Arkansas Razorbacks. He was one to never meet a stranger and enjoyed talking to people. Ben was a friend to many and will be greatly missed.
Survivors include two daughters, Rachell Sanchez-Smith of Fayetteville, and Tara Kizer and husband, Bryan Kizer, of Centerton; two grandchildren, Reid Peterson and Elisabeth Kizer; brothers and sisters, Nola Bell Smith Lawley and husband, Robert Lee Lawley, of Sapulpa, Okla., John Thomas Smith of Tulsa, Okla.; and several nieces and nephews.
Ben was preceded in death by his parents; and his four older siblings, Roy Smith, Etta Fay Jones Smith, Stillmon Smith, and Bob Smith.
A memorial service will be at 3 p.m. held on Saturday, June 12, 2021, at Salem Lutheran Church in Springdale, Ark. The graveside service will be at 1 p.m., held on Saturday, June 19, 2021, at Park Hill Cemetery in Tahlequah, Okla. Cremation arrangements are under the direction of Cremations Only, Springdale, Ark.
Published June 11, 2021
OBITUARY SUBMITTED BY:
White Funeral Home
Box 890, Cassville, MO
Find it at: 196 Sale Barn Road
E-mail: info@whitefuneralhome.org
Phone: 417-847-8400
http://www.whitefuneralhome.org/