Joel Wilson Pugh, II
of Little Rock, AR, 1932 - 2021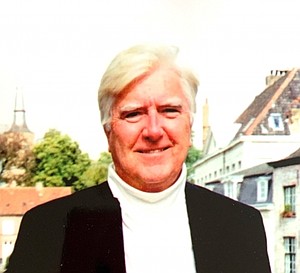 The Very Reverend JOEL WILSON PUGH II—beloved preacher and teacher, husband and father, whose life and career spanned nearly nine decades and two continents—died peacefully on Monday, March 8, 2021 at his Little Rock home, his wife Caroline at his side. He was 88.
Joel Pugh delivered hundreds of sermons, shepherded thousands of parishioners, and believed in the power of Christ's Gospel. He told good stories, appreciated clever puns, and relished crossword puzzles. He adored small children and rousing hymns, mixed a perfect dry martini, and was at his happiest browsing the aisles of a well-stocked hardware store. He also was an appreciator of the art of the obituary, admiring those that communicated the full arc of a long life with verve and without sentimentality.
Born on July 28, 1932, in St. Vincent's Infirmary in Little Rock, Joel Pugh was the son of Robert Dean Pugh and Louise McLeod Pugh Nash. An observant child and voracious reader, he began his schooling at Portland (Ark.) Elementary and graduated from Pine Bluff High School in 1950. He went from there to college and graduate work at University of the South in Sewanee, Tenn., receiving a BA in 1954 and a Master of Divinity in 1957.
He returned to Arkansas to be ordained and to take up his first parish ministry at Good Shepherd Episcopal Church in Little Rock. In 1960, he departed for England to pursue doctoral studies in theology at Oxford University. Two years later he became assistant chaplain of University College, Oxford, where he met Caroline Maud, a professional actress and daughter of the then-head of the College. Soon after coming back to the United States and his alma mater to become chaplain at the University of the South, he asked Caroline to marry him. Fortunately for us all, she said yes, and in 1967 they married and returned to Tennessee.
After six years of ministry to the campus community in Sewanee, he became Rector of The Falls Church, the historic North Virginia parish established in 1732, where George Washington once worshiped and served as church warden. But the pull of Arkansas was strong, and in 1977 he accepted the call to become Dean of Trinity Episcopal Cathedral in Little Rock.
He and Caroline planted deep roots in the community. They moved downtown, buying and renovating a historic home one block from the Cathedral and becoming part of a lively and nurturing Quapaw Quarter community. They hosted concerts, fundraisers, family parties, and invited any parishioner without nearby family to join them at their Thanksgiving table. Their Christmas parties were memorable not only for the good cheer exchanged and the carols sung, but also for Joel's insistence on lighting the tree with real candles rather than string lights. (He kept a fire extinguisher at the ready throughout.) They became deeply engaged in the work of the Arkansas Repertory Theatre, where Caroline regularly performed and both Pughs served on the Board of Directors.
He stepped down as Dean in 1994, but "retirement" was only a technical term for Joel Pugh, as he soon agreed to become chaplain of Christ Chapel in Hobe Sound, Fla., where he remained until 2002. During those years, he and Caroline also lived part-time in Salisbury, England, where they bought a home in the shadow of 800-year-old Salisbury Cathedral.
Returning home to Arkansas for good in 2009, he and Caroline became members of St. Andrew's Anglican Church and devoted patrons of local arts and charitable organizations. Although he was increasingly physically limited by Parkinson's Disease and other illnesses, his intellect and sense of humor remained undimmed until nearly the very last.
He leaves his wife, Caroline, of Little Rock; his daughter and son-in-law, Margaret and Jeff O'Mara of Mercer Island, Wash.; his son and daughter-in-law, John and Liz Pugh, of New York, N.Y.; and grandchildren Molly O'Mara, Abby O'Mara, and Jozef Mahoney. Also surviving him are his elder brother, Robert D. Pugh of Little Rock and Pine Bluff, his younger brother John Nash of Oklahoma City, and many other beloved family members.
The family would like to thank the caregivers who made such a difference in the last years of Joel's life: George Howard, Waymon Vault, John Hughes, Cedric Cooper, Crawford Matthews, Lennox Johnson, Tovya Prince, Cynthia Tyson, and Alvin Willis. We also thank his medical team: Dr. Samantha Watt at the Arkansas Longevity Center; Edward Drangle at Ageless Health and Fitness; Melanie Barton, physical therapist; and the care team at Kindred Hospice.
Due to pandemic restrictions, a memorial service will be held at a later date. In lieu of flowers, donations may be made in his memory to Kairos Prison Ministry of Arkansas, P.O. Box 914, Benton, Ark., 72018 or at www.kairosofarkansas.org/donate.html.
Arrangements are under the direction of Ruebel Funeral Home, RuebelFuneralHome.com.
Published March 15, 2021
OBITUARY SUBMITTED BY:
Ruebel Funeral Home
6313 West Markham Street, Little Rock, AR
Phone: 501-666-0123
http://www.ruebelfuneralhome.com