Jamie Lou Harrell
of North Little Rock, AR, 1934 - 2021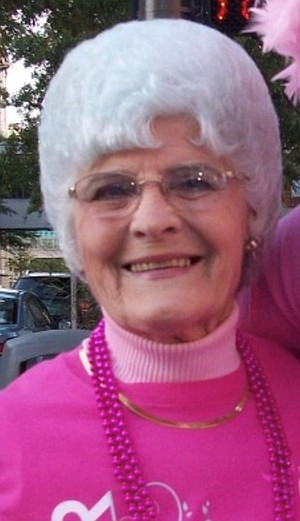 JAMIE LOU HARRELL, 86, of North Little Rock, passed from this life on May 1, 2021. Jamie was retired from KC-Foods in NLR and Rock-City Furniture in NLR. She was a breast cancer survivor and walked for many years in the race for the cure in Little Rock. She was a graduate of NLR High School, where she played basketball. Her favorite thing to do was spend time with her family, especially her grandson, David. She enjoyed making people happy, from wedding showers, baby showers, birthday parties, Christmas parties, family reunions, wedding anniversaries, and Thanksgiving dinner. Her home was always open to all and was a beautiful gathering place. She was the most upbeat, positive person, she always found the good in everyone and everything. Her smile would light up any room.
She is survived by her husband of 65 years, John Leo Harrell; one daughter, Tammy Johnston (Dale Dague); grandson, David Johnston III; granddaughter-in-law, Paige Johnston; and great-granddaughter, Berkley Rose Johnston; one brother: Ross Ison; son-in-law and care giver, David Johnston II; five sisters-in-law: Evelyn Ison of Sherwood, Eva Harrell and Martha Whitely of Mena, Ark., Janice Harrell of Mayflower, and Christa Harrell of Germany; two brothers-in-law: David Harrell (Shirley) of NLR and Bobby Harrell (Janet) of Sherwood; many nieces and nephews, great-nieces and nephews, great-great nieces and nephews, and great-great-great nieces and nephews; a hoard of extended family and friends.
She was proceeded in death by her father, John Conrad Ison; mother, Florence Elizabeth Ison; daughter, Kimberly Sue Harrell; one sister: Emogene Brothers and husband Troy; John C. "Tom" Ison and wife Ophelia; George Ison; Jack Ison and wife Bessie and twin-brother Jimmie Ison; sister-in-law, Lula Ison; sister-in-law, Katherine Harrison and husband Herman; sister-in-law, Freeda Simpson and husband Henry; brother-in-law, Joseph Harrell and wife Ruth; brother-in-law, Austin Harrell and wife Wanda; brother-in-law, Walker Harrell and wife Lillian; brother-in-law, Frankie Harrell; brother-in-law, Charles Harrell and brother-in-law David Whitely.
Visitation will begin at noon, Tuesday, May 4, 2021, at Smith-North-Little-Rock-Funeral-Home. Funeral will be 1 p.m. at the funeral-home with burial following in Gravel-Ridge Cemetery. Guestbook at www.SmithFamilyCares.com.
Published May 2, 2021
OBITUARY SUBMITTED BY:
North Little Rock Funeral Home
1921 Main St, North Little Rock, AR
E-mail: mail@nlrfh.com
Phone: 501-758-1170