L. George Buck
Little Rock, AR, 1933 - 2021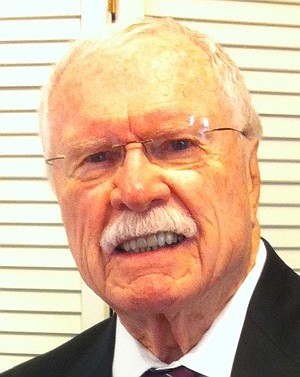 Rev. L. George Buck, PhD, former director of Pastoral Care and Education at the University of Arkansas for Medical Sciences, passed away early Wednesday, May 12, 2021, following a prolonged illness. Born March 2, 1933, he was the youngest of four children of Reverend Francis E. Buck and Velma Mead Buck. As the son of a Methodist minister, George lived in several towns growing up. He attended grade school in a one room schoolhouse on the Potawatomi Native Reservation where his father was appointed to serve a mission church. When he was fourteen years old, his father passed away. As the Korean War began, he and his brother dropped out of high school and joined the Navy spending four years in the amphibian branch in Japan and Korea. Following his discharge from the Navy, George attended Emporia State University and was a member of Sigma Phi Epsilon fraternity. He graduated in 1957, with a business degree and then went on to attend Perkins School of Theology at Southern Methodist University where he completed his Bachelor of Divinity degree in 1960. George trained at the famed Menninger Clinic in what would become his life-long career, Clinical Pastoral Education. He became certified as a Chaplain Supervisor of Clinical Pastoral Training in a program founded by the progenitor of the clinical pastoral training movement, Anton Boisen. George is believed to be the last remaining chaplain who actually met Anton Boisen.
By 1962, George and his young family moved to upstate New York for five years when he became Chaplain and Director of Clinical Pastoral Training at the Berkshire Farm for Boys. In 1967, he was offered a position as Director of Pastoral Care and Pastoral Training at the Austin State Hospital in Austin, Texas. During the 25 years spent there, George earned a Masters of Sacred Theology from the Episcopal Theological Seminary of the Southwest and a Ph.D. in Pastoral Care and Counseling from Carnegie Mellon University in New York. From 1963 to his retirement in 2016, George served as a Clinical Pastoral Education Supervisor and Director of Pastoral Care and Education in various institutions and hospitals from New York to Texas. In 1994, George accepted the position as Director of Pastoral Care and Clinical Pastoral Education at UAMS and served there for the remainder of his career, retiring in 2016.
Shortly after George moved to Little Rock, George met Virginia Rowland at a Valentine's Day Dance sponsored by a Sunday School class through his church. After George introduced himself, the two talked and laughed the rest of the night. They met for lunch the next day and found they had many common interests such as politics, music, and antiques. They were married in February, exactly a year after they met. They enjoyed entertaining and celebrating holidays and meals with friends and family, and they loved traveling throughout the United States as well as to far-away locales such as Rome, Athens, Istanbul, Germany, and France.
George was predeceased by his parents, his three older siblings, and the mother of his two sons, Marilyn Buck. George is survived by his beloved wife of 27 years, Virginia Sue, and his two sons, Corey of Victoria, Texas, and Palmer (RuthAnne) of Austin, Texas, both of whom he was very proud. In addition, he leaves to cherish his memory two granddaughters, Taylor, and Darby; a stepdaughter, Christy Jackson (Stuart) and their children, Kate and Connor; and a stepson, Carlton Creger (Jeanelle) and their children, Emma and Nick. George also leaves behind his precious white poodle, Hamilton Buck.
The family would like to express their heartfelt appreciation to George's caregivers and staff at Presbyterian Village, his home for the past two years, as well as to Mac, Julie, Candi, and the rest of the care team at Arkansas Hospice. A very special thank you goes to Dr. William Mustain at UAMS for going above and beyond with his care and concern for George.
George's work at UAMS left an indelible mark not only on the institution and the Department of Pastoral Care, but also in the minds and hearts of hundreds of members of clergy and lay persons who were taught the art and science of caring for persons in crisis. He will be deeply missed by his friends, family, and his many students who saw him as the embodiment of care. In George's words, "Pastoral care is the art of communicating understanding love."
Donations may be made to the Clinical Pastoral Education Department at UAMS, 4301 W. Markham, Little Rock, Ark., 72205, to fund the annual CPE Retreat at Petit Jean Mountain, or to Arkansas Hospice, #2 St. Vincent's Circle, Little Rock, Ark., 72205. Plans for a celebration of George's life will be announced at a later date. Cremation arrangements are under the direction of Cremation Services of Arkansas, (501-313-5431.
Published May 15, 2021
OBITUARY SUBMITTED BY:
Cremation Services of Arkansas
806 N. University, Little Rock, AR
E-mail: cremationservicesofarkansas@gmail.com
Phone: 501-313-5431
http://cremationservicesofarkansas.com/