Samuel Portis Sawyer
of Little Rock, AR, 1954 - 2021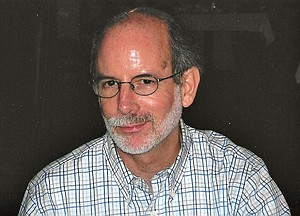 This poor, battered old world lost another of its treasures when SAM SAWYER died unexpectedly
on May 25, 2021, at the age of 67.
Sam's quirky humor, his intense curiosity about varied and unusual things and his devotion to
his friends and family will always be cherished by those who were lucky enough to have known him.
There will be more about that a few paragraphs down.
Samuel Portis Sawyer was born January 14, 1954, in Arkadelphia, to the late Dr. Robert J. Sawyer and Aliece Portis Sawyer. Sam was also deeply fond of his stepmother, the late Marie Sawyer, who loved and encouraged him his young adult years.
He is survived by his younger brother, Robert Paul Sawyer and Paul's wife, Nathania Sawyer, his uncles Dr. Richard P. Portis and Jonathan Portis and numerous cousins. He is also survived by a large cohort of friends who are heartbroken by the loss of their most uncommon and entertaining comrade.
He was the grandson of the late Charlie O. and Lena Sawyer and the late Samuel P. Portis and
Alice W. Portis, all of Hamburg, Ark., where his father and mother met and were married.
Sam was a graduate of Pine Bluff High School and the University of Central Arkansas. After
college he moved to Little Rock, where he worked for the Little Rock Wastewater Utility, the Arkansas Department of Environmental Quality and retired from the Arkansas Department of Transportation.
Sam and Paul lost their mother to sudden death when they were toddlers. They were
motherless children during much of their lives. Though their dad had his hands full raising two young boys, he made time to introduce them to the world around them with camping and exploring trips and travels to Saint Louis to watch the Cardinals.
Sam's first job came when he was nine or 10 years old. He was an avid reader of TV Guide magazine and felt it was his duty to proselytize the wonders of TV Guide to the residents of Arkadelphia, so he began selling subscriptions door to door all over town. As Sam did with everything he was interested in, he put his heart and soul into the task, though it was never clear to anyone as to whether he made any money.
Once, when out-of-town relatives came to visit, Sam had disappeared. His dad drove all over
Arkadelphia looking for him until he found Sam standing on a doorstep several blocks away, giving his sales pitch to a very patient woman. Sam was miffed about being made to come home and sit around with a bunch of boring relatives while he could be knocking on the doors of residents, who were no doubt surprised to find a small boy standing there, ungainly satchel over his shoulder, determined to make another TV Guide convert.
At the same time, Sam's interest in baseball became more intense. Though he was a die-hard Saint
Louis Cardinals fan, he also kept the statistics and player names of all the other baseball teams, mostly in his head. In later years, friends would be astonished at Sam's ability to cite stats and play-by-play descriptions of games by even the most obscure major league teams. He was a loyal fan of the Arkansas Travelers, attending most, if not all, of their home games in Little Rock and North Little Rock.
Sam was left-handed, which meant he spent most of his Junior Deputy League years dodging
wild throws from pitchers who were not accustomed to left-handed batters. He was walked nearly every time he went to bat. His position was first base, where he became an accomplished player. Sam was proud of being left-handed and often cited the Bible's praise of left-handed hurlers in Judges 20:16. He and Paul adopted a homeless three-legged dog, whom they named Snout. Snout was not hindered by his backward, malformed, useless left hind leg and was game for whatever the boys were up to. He was their companion on their forays into the woods across the street from their home.
Now comes the part that those who knew Sam well might want to skip. As a boy, Sam became
interested in reptiles, especially snakes. This interest only grew as he got older. His uncles and friends were often surprised, and frightened, when Sam would look at the ground and pick up a snake to show them. Over the years, he read as much as he could about snakes, learning the appearances of different species. He learned even more through his field studies around Arkansas while actively looking for snakes. He photographed every snake he came across, often emailing the photos to friends and, later, posting them to Facebook. Sam was fearless with snakes, even the vipers, though he rarely handled those. In all the years of up-close snake study he was never bitten by a poisonous one. Sam became a defender and protector of snakes, castigating people who killed them indiscriminately.
Sam was a devout cat lover, always adopting two or three from shelters several times over the
years. He would send photos to his friends of his cats doing what cats do, nothing. He is survived by his last two cats, Binx and Mildred.
Sam was known for his extraordinary memory, which bordered on that of a savant. When visiting with friends he could recall minute details of the most incidental events from decades past. When he finished recounting his story, his friends would always ask, "How in the world do you remember all of that?" Sam's devotion to the "The Andy Griffith Show" played into his memory skills with his ability to quote such characters as Floyd the Barber and cite the plot and actors of every episode up until the departure of Deputy Barney Fife.
He loved his friends' children and they loved him back. He would entertain them with jokes,
showing them a snake or a lizard, or folding a five-dollar bill into a bow-tie with Lincoln's face on the front of the knot. He was skilled at the ancient illusion of pulling off half of his thumb, which startled the younger ones. He learned the trick from his Uncle Buddy Portis. Sam could hypnotize lizards.
He was also a camping enthusiast, which gave him the opportunity to look for snakes. He usually
camped alone but was often accompanied by friends or his brother and sister-in-law. His favorite
camping place in the whole wide world was Shady Lake in far western Arkansas amidst the Ouachita National Forest.
Services for Sam are pending. If you want to honor Sam's life and his memory, don't kill snakes
of any kind. They all serve an important environmental purpose. It's fine to be squeamish or fearful around them. Most of us are. Just leave them alone and they'll vanish into the surroundings, as if they were never there.
Donations in his honor may go to the Humane Society of Pulaski County or any animal shelter or
rescue group.
Cremation Arrangements Entrusted to Arkansas Cremation. www.ArkansasCremation.com.
Published May 30, 2021
OBITUARY SUBMITTED BY:
Cremation Association of Arkansas
201 N. Izard, Little Rock, AR
E-mail: craig@ARcremation.com
Phone: 501-753-3200
http://www.ARcremation.com/