Lucy L Winton
Piggott, AR, 1935 - 2021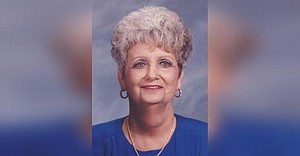 Lucy L. Gramling Winton was born in Paragould, Ark., on July 27, 1935, and passed away on October 22, 2021, at the age of 86 years at Piggott Community Hospital. Lucy was the daughter of Carlos Gramling and Ruth Gramling Warren, and a sister to Clarice Faucett and two infant brothers who all preceded her in death.
Lucy and James 'Jim' Winton were united in holy matrimony on July 16, 1951 and were married 58 years. Jim and Lucy were life-long members of First Baptist Church and raised their children in the church where life-long friendships were formed and continue to date. Jim preceded her in death on June 5, 2009. Also preceding her in death was her grandson, Christopher Michael Winton (1980) and great-grandson, David Alan Brown (2019).
Lucy enjoyed numerous hobbies which included traveling, sewing, crocheting, quilting, and Diamond Dot Art. Lucy was blessed with many friends who took the time to chauffeur her back and forth to doctor appointments, checked in on her after appointments or hospital stays, or just took the time to converse with her during the evening hours.
Brown Shoe Company was where Lucy spent her early working years. She then became a full-time homemaker, honing her canning and sewing skills. Later, she and Jim became co-owners at Clay County Abstract and Insurance with Charles and Alice Gregory. In 1980, Jim and Lucy split their abstract and title insurance operation and opened Clay County Abstract, Inc. She and Jim spent over 40 years working side by side until 2000 when Jim retired and Lucy would work alongside her son, Van, in the business. In all, she spent over 50 years as an abstractor and title insurance agent.
Lucy is survived by her five children and their spouses: James Steven Winton (Kecia), Clearwater, Fla.; Robert Van Winton (Glenda), Paragould, Ark.; Donald Ray Winton (Patty) Little Rock, Ark.; Julia Kay Winton Kibler (Frank), Gulf Breeze, Fla.; Vickie Lynn Winton Brown (David), Piggott, Ark.; 13 grandchildren: James Steven Winton II (Melissa), Frisco, Texas; Thomas P. Winton (Melissa), Phoenix, Ariz.; Robert Van Winton II, Salt Lake City, Utah; Erika Renata Winton, Salt Lake City, Utah; Cory Ross (Martha), Branson, Mo.; Brooke Nicole Pruitt, Paragould, Ark.; Patrick Reid Winton, Little Rock, Ark.; Aaron Ray Winton, Little Rock, Ark.; Jeffrey S. Gold, Kingsport, Tenn.; Brett E. Smith, Huntsville, Ala.; Alexander Scott Kibler (Dixie Roberts), Englewood, Colo.; Andrew David Brown (Brittaney), Little Rock, Ark.; Natalie Ruth Brown McIntosh (Scott), Greenville, N.C.; 13 great-grandchildren: Alyssa Winton Luft, Skylar Winton, Taylor Winton of Frisco, Texas; Christopher and Callie Huffman, Jaxson Winton, Phoenix, Ariz.; Collin Ross and Cameron Ross, Branson, Mo.; Sydney Ross Pruitt, Paragould, Ark.; Colton Scott Gold, Gulf Breeze, Fla.; Jack Dennis Kibler, Englewood, Colo.; Brinley Rayne Brown, Little Rock, Ark.; Shepard James McIntosh, Greenville, S.C.; two great-great grandchildren: Blair and Lyanna Luft of Frisco, Texas; Niece: Marilyn Brewer (Ron), Longwood, Fla.; nephew: Mike Faucett (Ruby), Bentonville, Ark.
Pallbearers will be grandsons: James Winton, Cory Ross, Patrick Winton, Aaron Winton, Brett Smith and Colton Gold.
Visitation will be held at Hoggard & Sons Funeral Home on Monday, October 25, 2021, beginning at 6 p.m. Funeral Services will be held at First Baptist Church, Piggott, Ark., on Tuesday, October 26, 2021, at 11 a.m. Interment will be at Piggott Cemetery immediately following the services. Hoggard & Sons Funeral Home of Piggott, Ark., is in charge of the arrangements.
Published October 25, 2021
OBITUARY SUBMITTED BY:
Hoggard & Sons Funeral Home
142 North 3rd Avenue, P.O. Box 415, Piggott, AR
Phone: 870-598-3469
http://www.hoggardfuneralhome.com